1)

 The Notorious BIG- Ready to Die
-(1994) Around the years '87-'88, a young crack dealer named Christopher Wallace began entertaining local passersby by rapping into a beat-up amp on the street corners around Bedford-Stuyvesant, Brooklyn.  Six years later, he was the biggest rapper in the world.  Three years after that, he was dead.   During the short flash that was his career, only one album was to be released, a top-to-bottom classic with the eerily prophetic title 'Ready to Die'.  This album has it all.  Sick beats, brilliant lyrics, crazy flows, and that intoxicating voice of Biggie Smalls.  Key Tracks: Warning, Juicy, Ready to Die.
2) 

 Nas- Illmatic
—(1994) Five months prior to Ready to Die, this 20-year-old Queensbridge native paired with producers Large Professor, DJ Premier, Pete Rock, and Q-Tip and burst onto the scene with what would be his masterpiece. Calling the album Illmatic after his incarcerated friend Illmatic Ice, Nas originally wanted the cover to feature himself with Jesus in a headlock. Key Tracks: N.Y. State of Mind, Life's a Bitch, One Love.
3)

 Dr. Dre- The Chronic
—(1992) Fresh off of his split with supergroup NWA, Dre took it solo and ended up creating perhaps the best produced rap album of all time. The Chronic would introduce Parliament-laced G-funk to the mainstream and made Snoop Dogg, Warren G, and Nate Dogg stars before they'd ever even released albums of their own. Key Tracks: Nuthin' but a "G" Thang, F*ck wit Dre Day, Let Me Ride.
4) 

 Jay-Z – Reasonable Doubt
–(1996) In 1996, Jay-Z blew audiences away with his debut effort and first release on label Roc-A-Fella records.  Sean Carter had been known as "Jazzy", a nickname that developed into his stage name Jay-Z as an homage to his musical mentor Jaz-O and to the J-Z subway lines that stop by Marcy Avenue.  Jaz-O had given Jay-Z his first break by recruiting him on the 1989 song "Hawaiian Sophie."  Two decades later, Jigga is a true hip hop tycoon.  Key Tracks: Dead Presidents, Brooklyn's Finest, Can't Knock the Hustle.

5) 

 Public Enemy-It Takes A Nation Of Millions To Hold Us Back
—(1988) Channeling the black anger and urban tension so in need of an outlet, Nation of Millions was one of the first truly socially conscious hip hop albums. Key Tracks: Bring the Noise, Don't Believe the Hype, Black Steel in the Hour of Chaos.
6) 

 The Wu-Tang Clan- Enter The Wu-Tang Clan – 36 Chambers
–(1993)  In 1993, Ghostface Killah and RZA decided to create a hip hop group whose ethos would be a blend of "Eastern philosophy picked up from kung-fu movies, watered-down Nation of Islam preaching picked up on the New York streets, and comic books."  Recruiting the best rappers they could find, RZA set out to produce an album layered with eerie beats, martial-arts movie clips and soul music samples.  To decide who appeared on each song, he forced the Wu-Tang rappers to battle with each other.  The album's title originates from the 1978 martial arts film 'The 36th Chamber of Shaolin'.  Key Tracks: C.R.E.A.M, Protect Ya Neck, Bring Da Ruckus.
7)

 NWA- Straight Outta Compton
–(1988) This debut studio album pioneered gangsta rap and scared a whole lotta white people in the process. Instrumental in shifting power to the West Coast, Straight Outta Compton became the first album to reach platinum status without any airplay support or major tours. Key Tracks: Straight Outta Compton, Express Yourself, F*ck The Police.
8) 

 A Tribe Called Quest- The Low End Theory
–(1991) Fusing hip hop and jazz, childhood friends Q-Tip and Phife Dawg and high school mate Ali Shaheed Muhammad created an unique brand of intelligent, socially conscious music.  Low End features contributions from jazz great Ron Carter on upright bass. Key Tracks: Excursions, Jazz (We've Got), Scenario.
9) 

 Snoop Doggy Dogg- Doggystyle
—(1993) Following the success of The Chronic, Doggystyle debuted at number one and sold over 800,000 copies in its first week, the record for a new artist. Key Tracks: Gin and Juice, Who Am I (Whats My Name)?, Lodi Dodi.
10) 

 Raekwon- Only Built 4 Cuban Linx –(1995) Raekwon brought producer RZA and Ghostface Killah along for his solo debut, an album widely regarded as the pioneer of Mafioso rap, a genre later perfected by Biggie and Jay-Z (It was also the first hip hop album to name drop Cristal). It's title suggests that the music was as tough as Cuban link chain jewelry.  Key Tracks: Criminology, Glaciers of Ice, Rainy Dayz.
11)

Outkast– Aquemini
–(1998) Outcast's third studio album took its name from a combination of the duo's astrological signs (Aquarius for Big Boi and Gemini for André 3000). The synthesizer-laden, distinctively Atlanta sounding record took only 2 months to go platinum. Key Tracks: SpottieOttieDopaliscious, Rosa Parks, Return of the "G".
12) 

 The Fugees-The Score
—(1996) The second and final album of super-group Wycelf Jean, Lauren Hill and Pras. 18 million sold. Key Tracks: Killing Me Softy, Fu-Gee-La, Ready or Not.
13)

  2Pac- All Eyez On Me
–(1996) All Eyez was released after Suge Knight, CEO of Death Row Records and baddest mofo on planet earth, bailed 2Pac out of jail in exchange for signing to his label.  Arriving in studio to begin work hours after being released, Pac would lay down what would become his crowning achievement.  Key Tracks: 2 of Amerikaz Most Wanted, California Love, Ambitionz Az a Ridah.
14) 

 Afrika Bambaataa & the Soulsonic Force- Planet Rock: The Album–(1986)  Respectfully known as the "Grandfather" for his monumental impact on the early development of hip hop, Bambaataa recently became one of the first hop hop artists to be nominated for induction into the Rock and Roll Hall of Fame.  Representing Zulu Nation, he released the seminal Planet Rock over two decades ago as a collection of previous singles that had up until then never appeared on an album.  Key Tracks: Planet Rock, Looking For the Perfect Beat, Renegades of Funk.
15) 

 Boogie Down Productions-Criminal Minded
–(1987) With Criminal Minded, KRS-One and BDP laid the groundwork for gangsta rap, as it was the first album to feature gun-toting MCs on its cover and crime narratives within its tracks. Their hardcore lyrics would become all too real after DJ Scott La Rock was shot and killed a mere five months after this seminal release.  Key Tracks: The Bridge is Over, Criminal Minded, South Bronx.
16) 

Grandmaster Flash and the Furious Five– The Message
–(1982) Releasing their debut album on upstart Sugarhill Records, DJ Grandmaster Flash and MCs Melle Mel, Kidd Creole, Cowboy, Mr. Ness/Scorpio, and Rahiem essentially wrote the rule book on turntablism, break-beat deejaying, and rapping.  The title track was the first hip hop song to integrate socially and politically conscious lyrics. Key Tracks: The Message, Scorpio, She's Nasty.

17) 

 Eric B. & Rakim-Paid In Full
—(1987) After Rakim responded to Eric B.'s search for "New York's top MC," the duo got to work after Rakim's friend and roommate Marley Marl permitted them use of his home studio.  They would end up creating one of the most influential rap albums ever for its use of samples, internal rhyme, complex lyricism, and laid back flow.  Key Tracks: Eric B. Is President, I Know You Got Soul, Paid in Full.
18)

 Dr. Dre-Chronic 2001
–(2001) Almost a decade after releasing his landmark album The Chronic, Dre took back to the studio to begin work on his long-anticipated follow up.  Dre did not mince words about his motivations: "For the last couple of years, there's been a lot of talk out on the streets about whether or not I can still hold my own, whether or not I'm still good at producing. That was the ultimate motivation for me. Magazines, word of mouth and rap tabloids were saying I didn't have it any more. What more do I need to do? How many platinum records have I made? O.K., here's the album — now what do you have to say?"  Point made…    Key Tracks: Forgot About Dre, The Next Episode, What's The Difference.
19)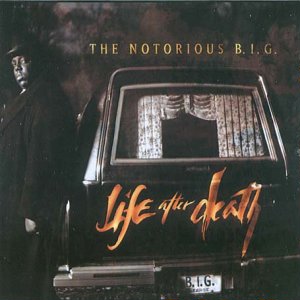 The Notorious BIG-Life After Death
–(1997)-This double album released posthumously featured guest artists 112, Jay-Z, Lil Kim, Bone Thugs-N-Harmony, R. Kelly, The LOX, Kelly Price, and Puff Daddy.  Considered a seminal mafioso rap album, it is one of three hip hop albums to ever be certified diamond (10 million US sold). Key Tracks: Notorious Thugs, Hypnotize, Ten Crack Commandments.
20)

 Run D.M.C.- Run DMC
–(1984) Run DMC's debut effort was the first hip-hop album to ever receive a 5-mic rating from The Source. Key Tracks: Rock Box, It's Like That, Sucker M.C.'s
21) 

 Beastie Boys- Licensed To Ill
—(1986)-Some fast facts: It is the first rap LP to top the Billboard 200 chart.  It is Columbia Records' fastest selling debut record to date.  Kerry King of Slayer made an appearance on the album playing lead guitar on "No Sleep 'Till Brooklyn".  The '3MTA3' on the cover image of the plane spells 'EATME' when viewed in a mirror.  The original title for the album was Don't Be a Faggot but Columbia Records refused to release the album and pressured Russell Simmons into having the Beastie Boys to come up with another name.  Key Tracks: Fight for Your Right, No Sleep Til Brooklyn, She's Crafty.

22)

 2Pac- Me Against The World
–(1995) Recorded in a matter of weeks before Pac was to go to prison on sexual assault charges, MATW would make the embattled rapper the first and only artist to ever have a number one album while serving a prison sentence. Key Tracks: Dear Mama, Me Against the World, Outlaw.
23)

 Eminem- The Marshall Mathers LP
–(2000) Em's third studio album was gritty, angry, and brutally honest, lashing out against critics and illustrating the troubles that his new found fame had induced. The album sold more than 1.79 million copies in its first week in the US alone, making it the fastest selling solo album ever. Key Tracks: Stan, The Way I Am, The Real Slim Shady?
24) 

 Ice Cube- AmeriKKKa's Most Wanted
–(1990) Primarily produced by The Bomb Squad, AmeriKKKa's Most Wanted made use of several tracks Cube had originally written for NWA before their acrimonious split. Taking on the American justice system, race relations, poverty, and drug addiction in South Central, L.A., Cube produced an instant classic that is as powerful today as it was two decades ago. Key Tracks: AmeriKKKa's Most Wanted, Endangered Species, Who's the Mack?.
25) 

 Jay-Z- The Blueprint–Despite the bad fortune of being released on September 11, 2001, The Blueprintsold over 426,000 copies in its opening week, becoming Jay-Z's fourth consecutive album to reach number one on the Billboard 200 chart.  Produced by Kanye West and Just Blaze, it was reportedly cut in two weeks, with Jay-Z allegedly writing the lyrics in two days.  Key Tracks: Izzo (H.O.V.A.), Renegade, Girls, Girls, Girls.

26) 

 Big L- Lifestylez Ov Da Poor & Dangerous
–(1995) Like Biggie's Ready to Die, Lifestylez was the only studio album to be dropped prior to it's author's murder.  The tremendously underrated LP introduced up-and-comers Jay-Z and Cam'ron.  Key Tracks: Put It On, M.V.P., Street Struck.
27) 

 Mobb Deep- The Infamous
…–(1995) This rap duo is the third act on this list to hail from Queensbridge. Key Tracks: Shook Ones Pt. II, Temperature's Rising, Survival of the Fittest.
28) 

 LL Cool J- Radio
–(1985) This first full length album release on Def Jam Records was primarily produced by co-founder Rick Rubin.  Key Tracks: I Can't Live Without My Radio, Rock the Bells, I Need a Beat.
29) 

 Outkast- ATLiens
–(1996) "It's deep. So deep that listening to 'ATLiens' you might feel like drowning, but the smooth vocals of Big Boi and the earthy flows of Andre always push you back up to the surface. They are players in the truest sense of the word; not just playing for ends but playing to win in the ultimate battle of life over death, good over bad, and righteousness over evil." –Steve Juon, RapReviews. Key Tracks: ATLiens, Wheelz of Steel, Two Dope Boyz (In a Cadillac).
30)

 Run DMC- Raising Hell
–(1986) One of the most important rap albums ever for its success in taking the infant the genre mainstream, Raising Hell silenced critics who had deemed hip hop a passing fad.  It made its biggest mark with Walk This Way, a collaboration with Aerosmith that became the first hip hop video in heavy rotation on MTV.  Key Tracks: Its Tricky, Walk This Way, My Adidas.
31) 

 Bone Thugs N Harmony- E. Eternal 1999
–(1995) Released four months after executive producer Eazy-E's death, Eternal spawned the landmark single "Tha Crossroads", which won a Grammy, went double-platinum, and tied The Beatles' 32-year-old record (1964's "Can't Buy Me Love") for the fastest rising single on the pop charts. Key Tracks: The Crossroads, 1st of tha Month, East 1999.
32)
 Black Star- Mos Def and Talib Kweli Are Black Star- (1998) The sole album from this power duo, the hyper-intelligent Black Star moniker is a nod to the Black Star Line, an early 20th-century African-American shipping line incorporated by Marcus Garvey. Key Tracks: Definition, Brown Skin Lady, Respiration.
33) 

 Nas- Stillmatic
–(2001) Nas harkened back to his Illmatic days with his fifth release, 2001's Stillmatic, which instantly earned the ever sought 5 mic rating from The Source.  Highlighting the achievement was Nas' bitter rebuke of Jay-Z with the "Ether", a scathing counterattack that portrayed his rival as both a plagiarist and sell-out.  Key Tracks: Got Ur Self A…, One Mic, Ether.
34) 

 GZA- Liquid Swords
–(1995) GZA's second solo album is up alongside Cuban Linx as the best of the Wu-Tang solo efforts. Key Tracks: Duel of the Iron Mic, Liquid Swords, Shadowboxin'.
35) 

 Lauryn Hill- The Miseducation of Lauryn Hill
–(1998) After breaking out with The Fugees, Hill released her solo debut in 1998, a fusion of hip hop, soul, reggae, R&B, and gospel.  The album garnered ten nominations at the 41st Grammy Awards, winning five, including Best New Artist and Album of the Year.  Key Tracks: Doo Wop (That Thing), To Zion, Everything Is Everything.
36)

 Mos Def- Black On Both Sides
–(1999) Mos Def's debut solo album post-Blackstar featured live instrumentation and socially-conscious lyrics. Key Tracks: Ms. Fat Booty, Brooklyn, Mathematics.
37) 

 Wu-Tang Clan- Wu-Tang Forever
–(1997) The long-awaited follow-up to 36 Chambers, Forever showcased their trademark stream-of-consciousness style of rap.  Key Tracks: Triumph, Visionz, As High As Wu-Tang Get.
38) 

 Jay-Z- The Black Album
–(2003) J's 8th studio album was promoted as his last, though he would obviously renege on that pronouncement not long after.  This epic has been mixed with everything from the Beatles and Grateful Dead to Linkin Park and Prince.  Key Tracks: What More Can I Say, Dirt off Your Shoulder, 99 Problems.
39) 

 Cypress Hill- Black Sunday
–(1993) This stoner opus marked the first time a Latino group would go platinum.  They would later be banned from Saturday Night Live after Muggs smoked a joint on-air and the band trashed their instruments while playing their second single "I Ain't Goin' Out Like That".  Key Tracks: Insane In The Brain, Hits From The Bong, I Ain't Goin' Out Like That.
40) 

 Gang Starr- Moment of Truth–(1998) The fifth studio album from DJ Premier and the late great Guru (Gifted Unlimited Rhymes Universal), Moment of Truth was the high water mark within a brilliant, nearly two decade-long career.  Key Tracks: You Know My Steez, Brooklyn Trooper, Moment of Truth.
41) 

 De La Soul- 3 Feet High and Rising–(1989) Produced by Prince Paul, the album takes its title from a Johnny Cash song called "Five Feet High and Rising". Key Tracks: Me Myself and I, Buddy, Eye Know.
42) 

 Eminem- The Slim Shady LP
–(1999)-For a kid in 6th grade, I remember exactly where I was when I first heard Eminem introduce himself to the world.  This was something unlike anybody I'd ever heard; raw, revealing, humorous, and at the same time brutally violent.  The album erupted a firestorm of opposition, as parental groups balked at lyrics that discussed everything from drugging a fifteen-year-old girl to disposing of Em's dead wife's corpse.  Key Tracks: Guilty Conscience, My Name Is, '97 Bonnie & Clyde.
43)

 Beastie Boys- Paul's Boutique
–(1989) Incorporating production by the Dust Brothers, the album makes use of samples from 105 different songs.  The sampling was uncleared, which was one of the last albums to do so before the landmark Grand Upright Music, Ltd. v. Warner Bros. Records Inc. case against Biz Markie that forced artists to obtain the rights to any song from which they sampled.  Key Tracks: Hey Ladies, Shake Your Rump, The Sounds of Science.
44)

 Big Pun-Capital Punishment–(1998) As The Source put it, "Capital Punishment is all about execution."  To be sure, Pun positively killed it in this debut effort, his spitfire rhyming skills asserting him as one of the most promising figures in hip hop before a heart attack killed him just two short years later. Key Tracks: Still Not a Player, Twinz (Deep Cover 98), You Came Up.
45) 

 EPMD- Strictly Business
–(1988) This landmark effort from Eric Sermon and Parish Smith unearthed samples from within a genre to which few other rappers of the era were paying much attention.  Contained within its tracks are cuts from ZZ Top, Steve Miller Band, and Eric Clapton.   Key Tracks: It's My Thing, Strictly Business, You Gots to Chill.
46) 

 The Roots- Things Fall Apart
–(1999) The Roots' fourth studio offering turned out to be their commercial breakthrough.  During recording, the group laid down an astonishing 145 songs, which they later whittled down to the 14 that appear on the album.  Key Tracks: Adrenaline!, The Next Movement, Act Too (The Love of My Life).

47)

 Wyclef Jean- The Carnival
–(1997) Wyclef kicked off his solo debut with an electric record that combined hip hop, reggae, folk, disco, soul, Son Cubano and Haitian music.  As a tribute to his homeland, the final three songs are sung in Haitian Creole.  Key Tracks: Gone Till November, We Trying to Stay Alive, Guantanamera
48) 

 Jurassic 5- Quality Control– (2000) The major label debut of Chali 2na and company played a central role in the development of the alternative rap scene that was burgeoning around the turn of the century. Key Tracks: Quality Control, The Influence, World of Entertainment (W.O.E. is Me)
49)

 Puff Daddy & the Family- No Way Out –(1997) Originally titled 'Hell Up In Harlem' until the The Notorious B.I.G.'s death, the album topped the album charts in the US with 561,000 units sold in its first week of release. It would go on to win the 1998 Grammy Award for Best Rap Album. Key Tracks: Victory, Been Around the World, It's All about the Benjamins.
50) 

 Busta Rhymes- When Disaster Strikes
… –(1997) Busta's second solo effort reached #3 on the Billboard 200.  Key Tracks: Put Your Hands Where My Eyes Could See, Dangerous, Turn It Up.
Honorable Mentions:
Pete Rock and CL Smooth– Mecca and the Soul Brother, Method Man-Tical, Outcast-Stankonia, Nas-I Am…, LL Cool J-Mama Said Knock You Out, Beastie Boys-Check Your Head, Notorious BIG-Born Again, Run DMC-King Of Rock
, Ice T-O.G. Original Gangster, Missy Eliot-Supa Dupa Fly, A Tribe Called Quest-Midnight Marauders, Salt N Pepa- Blacks Magic, Kurtis Blow-Kurtis Blow, Big Daddy Kane-Its a Big Daddy Thing, Eric B. & Rakim-Follow the Leader, Gang Starr-Daily Operation, Common-Like Water for Chocolate, KRS One-KRS One, Kanye West-The College Dropout, 50 Cent-Get Rich or Die Tryin', Eminem- The Eminem Show, Nas-It Was Written, Public Enemy-Fear of A Black Planet, DMX- Its Dark and Hell is Hot.