Last Updated (Saturday, 28 May 2016 16:36)
Written by Ben Pogany
1)
Real Madrid
(1902)- La Liga, Spain
Hardware:
32 La Liga titles, 11 Champions League titles, 19 Copa del Rey Cups, 2 UEFA Super Cups, 2 UEFA Cups, and 3 Intercontinental Cups.
Current UEFA Coefficient Ranking:
1
Greatest Players: Alfredo Di Stéfano, Ferenc Puskás, Zinedine Zidane, Raymond Kopa, Luís Figo, Emilio Butragueño, Amancio, Francisco Gento, Iker Casillas,
Fernando Redondo
,
José Santamaría
2)
Juventus
(1897)- Serie A, Italy
Hardware:
31 Serie A titles, 2 Champions League Cups, 2 UEFA Super Cups, 3 UEFA Cups, 2 Intercontinental Cups, 9 Coppa Italias.
Current UEFA Coefficient Ranking:
9
Greatest Players: Gianluigi Buffon, Gaetano Scirea, Roberto Baggio, Michel Platini, Dino Zoff, Paolo Rossi, Alessandro Del Piero
,
Zinedine Zidane
,
Omar Sívori
,
Luis Monti
,
John Charles
3)
AC Milan
-(1899)- Serie A, Italy
Hardware:
18 Serie A titles, 7 Champions League titles, 3 Intercontinental cups, 1 FIFA Club World Cup, 5 Coppa Italias, 5 UEFA Super Cups.
Current UEFA Coefficient Ranking:
25
Greatest players: Marco van Basten, Franco Baresi, Kaká, Gianni Rivera, Ruud Gullit, Paolo Maldini, Juan Alberto Schiaffino, Karl-Heinz Schnellinger, Marcel Desailly, Nils Liedholm, Frank Rijkaard, Rui Costa, Cafu, Gennaro Gattuso.4)
FC Barcelona
-(1899)- La Liga, Spain
Hardware:
23 La Liga titles, 5 Champions League titles, 27 Copa del Rey Cups, 5 UEFA Super Cups, 2 FIFA Club World Cups.
Current UEFA Coefficient Ranking:
3
Greatest Players: Rivaldo, Ronaldinho, Lionel Messi, Xavi, Hristo Stoichkov, Andrés Iniesta, Luís Figo, Michael Laudrup, Samuel Eto'o, László Kubala, Ronald Koeman
5) 
Bayern Munich
(1900)- Bundesliga, Germany
Hardware:
25 Bundesliga Championships, 5 Champions League titles, 1 UEFA Cup, and 2 Intercontinental Cups.
Current UEFA Coefficient Ranking:
2
Greatest Players: Franz Beckenbauer, Lothar Matthäus, Gerd Müller, Paul Breitner, Sepp Maier, Uli Hoeneß, Mehmet Scholl, Karl-Heinz Rummenigge
6)
Manchester United (1878)- Premier League, England
Hardware:
20
First Division/Premier League Titles,
3 Champions League titles,
11 FA Cups, 4 League Cups, 1
UEFA Super Cup,
1 Intercontinental Cup, and 1 FIFA Club World Cup.
Current UEFA Coefficient Ranking:
20

Greatest Players: George Best, Bobby Charlton, Peter Schmeichel, Roy Keane, David Beckham, Cristiano Ronaldo, Eric Cantona, Nemanja Vidić, Ryan Giggs, Wayne Rooney, Paul Scholes
,
Denis Law
7)
Liverpool
(1892)- Premier League, England
Hardware:
18 Premier League titles, 5 Champions League titles, 7 FA Cups, 7 League Cups, 3 UEFA Super Cups and 3 UEFA Cups.
8)
Inter
(1908)- Serie A, Italy
Hardware:
18 Serie A Championships, 3 Champions League titles, 3 UEFA Cups, 2 Intercontinental Cups and 7 Coppa Italias.
Current UEFA Coefficient Ranking:
31
Greatest Players: Guiseppe Meazza, Giacinto Facchetti, Tarcisio Burgnich, Sandro Mazzola, Luis Suárez Miramontes, Armando Picchi, Javier Zanetti, 9)
Ajax
(1900)- Eredivisie, Netherlands

Hardware:
33 Eredivisie Championships, 4 Champions League titles, 18 Dutch Cups, 2 Intercontinental Cups, 2 UEFA Super Cups and 1 UEFA Cup.
Current UEFA Coefficient Ranking:
30
Greatest Players: Johan Cruyff, Dennis Bergcamp, Johan Neeskans, Johnny Rep, Velibor Vasović, Frank Rijkaard, Arie Haan
10)
Chelsea
(1905)- Premier League, England
Hardware:
5 First Division/Premier League Titles, 1 Champions League title, 1 UEFA Cup, 1 UEFA Super Cup, 7 FA Cups, and 4 League Cups.
Current UEFA Coefficient Ranking:
5
Greatest Players: Frank Lampard, Ashley Cole, Didier Drogba

Honorable Mentions: Club Atlético River Plate (Argentina), Arsenal (England), Porto (Portugal), Boca Juniors (Argentina), Rangers (Scotland), São Paulo (Brazil), Roma (Italy), Valencia (Spain), Parma (Italy), Benefica (Portugal), Celtic (Scotland).
Say what you will about Ben Affleck the person, but its getting harder and harder to argue with the merits of Ben Affleck the screenwriter and director.  Bennifer 2.0 has come along way since the Hollywood punchline days of Gigli and Daredevil (both of which garnered him a worst actor Golden
Raspberry) and has found new life as the screenwriter and director of Gone, Baby, Gone and the newly acclaimed The Town.  Even better, he's gone above and beyond to put Boston back on the cinematic map.  Seemed like a good time to break out the ten best Boston-based flicks of the generation.
Spotlight
Black Mass
Written by Ben Pogany
Thursday, 13 May 2010 09:47
Poor Junior.  Now I don't know if the guy was sleeping during the game or not, but part of me shudders with the same kind of horror as if I'd overheard people saying terrible things about an older brother.  I grew up with The Kid.  I played his video games, adorned my walls with his posters, even tried to imitate that magical swing of his (unsuccessfully, I might add).  It pains me to think that anyone could ever speak unkindly of the guy, or worse, that he would ever do something to warrant such discussion. 

To be sure, "The Kid" is a kid no longer.  But there is at least one reason he may always be a kid at heart.  Like any common ten-year-old, Ken Griffey Jr dreamed of one day playing in a World Series.  Yes, with all his accolades, Ken has the rare distinction of being one of the nine major leaguers in MLB history that have played in over 20 seasons without capturing a single pennant.  21 seasons without ever even catching so much as a glimpse of the Holy Grail.   So back
off, sportsworld.  A kid can dream, can't he?

20+ Seasons Without A World Series Appearance
Phil Niekro 1964-1987 24 seasons
Julio Franco 1982-2007 23 seasons
Ken Griffey Jr 1989-2010 21 seasons
Andre Dawson 1976-1996 21 seasons
Rafael Palmeiro 1986-2005 20 seasons
Luke Appling 1930-1950 20 seasons
Mickey Vernon 1939-1960 20 seasons
Brian Downing 1973-1992 20 seasons
Elmer Valo 1940-1961 20 seasons
Joe Torre- Aside of his hall-of-fame managerial career, Torre has the distinct honor of being the only player to start 500 games at catcher, first base, and third base. Torre started his career alongside his brother Frank, Hank Aaron, and Eddie Matthews on the Milwaukee Braves, where he would go on to win a
catching gold glove and prompt Jack Kerouac to call him "the best catcher since Roy Campanella." After being traded to St. Louis for Hall of Famer Orlando Cepeda, Torre would move to third base where in 1971 he would he hit .363 and drive in 137 runs en route to a NL MVP award. Torre wrapped up his career as a player-manager for the Mets. In his seventeen-year playing career, he would play in nine All-Star games. AVG: .297, HR: 252, RBI: 1,185.
Joe Girardi- Girardi caught 15 seasons in the majors, winning three World Series with the Yankees and appearing in an All-Star game in 2000. AVG: .267, Hits: 1,100, RBI: 422.
Mike Scioscia- The now skipper of the Los Angeles Angels of Anaheim spent his playing career under Tommy Lasorda's Los Angeles Dodgers, where he thrived as a catcher. Scioscia was lauded for his defense, in particular, his unrivaled talent for plate-blocking. Scioscia made two All-Star appearances and took home two World Series rings with the boys in blue. AVG: .259, HR: 68, RBI: 446.
Ozzie Guillen- Emerging from Venezuela, Guillen took the Major Leagues by storm, winning the 1985 AL Rookie of the Year Award as a shortstop. He was an All-Star in 1988, 1990, 1991, and won the Gold Glove Award in 1990. Guillén ranks among the White Sox all-time leaders in games played, hits, and at-bats. AVG: .264, Hits: 1764, RBI: 619.
Dusty Baker- Then, like today, Dusty Baker was never kind to pitchers. (See Mark Prior, Kerry Wood) Dusty compiled quite a resume in his sixteen-year playing career, including 2 All-Star selections, one World Series ring ('81 with the Dodgers), one Gold Glove, 2 Silver Slugger Awards, and the 1977 NLCS MVP honors. AVG: .278, HR: 242, RBI: 1,013.
Bud Black- In fifteen major league seasons, Black put together a very respectable pitching resume, winning over 120 games and capturing a World Series title in 1985. W:121, ERA: 3.84, SO: 1,039.
Terry Francona- After being named Most Outstanding Player in Arizona's 1980 College World Series Championship, Tito went on to have a largely unremarkable 10-year pro career, playing first base and outfield for five different ball clubs. AVG: .274, Hits: 474, RBI: 143.
Charlie Manuel- Though he appeared in five major league seasons in the early seventies, Charlie did not achieve a starting role until he began playing for the Yakult Swallows in Japan. Dubbed "Aka-Oni" (The Red Devil) by fans and teammates, Manuel became a star, enjoying seasons hitting 48, 42, 37, and 39 home runs. At a game against the Lotte Orions, he was hit in the face by a pitch, crushing his jaw. Told he needed at least two months to recover, Manuel returned after being sidelined for only 14 games, wearing a football helmet. The team went on to win the pennant. NPB statistics: AVG: .303, HR: 189, RBI: 491.
Ron Washington- Washington bounced around the majors for over a decade as a middle infielder. AVG: .261, Hits: 414, RBI 146.
Brad Mills- Before he was the newest skipper of the 'stros, Mills was just about the most unremarkable infielder for the now defunct Expos. In his 106 career games, just about the only thing Mills did of note was become Nolan Ryan's 3,509th career strikeout victim, moving the Express past Walter Johnson for first all-time. AVG: .256, HR:1, RBI: 12.
Bruce Bochy- In his decade of MLB service, Bochy caught for the Astros, Mets and Padres. AVG: .239, HR: 26, RBI: 93.
Tony La Russa- After suffering a shoulder injury while playing softball with friends, La Russa spent most of his career as a backup infielder for the A's, Braves, and Cubs. AVG: .199, Hits: 35, RBI: 7.
Bob Geren- After spending a decade in the minors, Geren finally made the big dance as a catcher for the New York Yankees. He sucked for a five years of his major league career. AVG: .233, Hits: 178, HR: 22.
Jim Tracy- Tracy played outfield for a couple of seasons with the Cubs before signing with Japan's Taiyo Whales. AVG: .249, HR: 3, Hits: 46.

Ron Gardenhire- The Twins' skipper battled through an injury-plagued five seasons as an infielder for the Mets before finally hanging up the cleats in 1985. AVG: .232, HR: 4, Hits: 165.

Jerry Manuel- From 1975-1982, Manuel bounced around the majors in a back-up infielder role, accumulating only 127 career at-bats over the seven year span. AVG: .150, HR: 3, RBI: 13


Lou Pinella- (18 seasons at left field) AB: 5867, AVG: .291, HR: 102, RBI: 766, 1972 All-Star and 1969 Rookie of the Year

Don Mattingly- (14 seasons at first and outfield)- Avg: .307, HR: 222, RBI: 1099, 6-time All-Star, 9-time Gold Glove winner, and the 1985 MVP.
Kirk Gibson- (17 seasons at outfield) AB: 5798, AVG: .268, HR: 255, RBI: 870, SB: 284, 1988 MVP
Don Zimmer- (12 seasons at third, short and second) AVG: .235, HR: 91, RBI: 352
Tommy Lasorda- (3 seasons pitching) IP: 58.1, ERA: 6.48, Record: 0-4
Sparky Anderson- (1 season at second) AB: 477, AVG: .218, R: 42
Bobby Valentine- (10 seasons at shortstop, outfield, and second) AB: 1698, BA: .260, HR: 12
Whitey Herzog- (8 seasons at outfield and first) AB: 1614, AVG: .257, HR: 20, RBI: 172
Larry Bowa- (16 seasons at shortstop) (AB: 8418, AVG: 260, SB: 318, 5-time All-Star and 2-time Gold Glove winner
Clint Hurdle- (10 seasons at right field, first, and catcher) AB: 1391, AVG: .259, HR: 32
Cito Gaston- (11 seasons at outfield) AB: 3120, AVG: .256, HR: 91, 1970 All-Star
Ned Yost- (6 seasons at catcher) AVG: .212, HR: 16, RBI: 64
Bob Melvin- (10 seasons at catcher) AB: 1955, AVG: .233, RBI: 212
Eric Wedge- (4 seasons at DH) AB: 86, H: 20, HR: 5
Mike Hargrove- (12 seasons at left field and first) AB: 5564, AVG: .290, RBI: 686, 1974 Rookie of the Year
Phil Garner- (16 seasons at second and third) AB: 6136, AVG: .260, SB: 225, 3-time All-Star
Ken Macha- (6 seasons at third) AB: 380, AVG: .258, HR: 1
Davey Johnson- (13 seasons at second and first) AB: 4797, AVG: .261, HR: 136, RBI: 609, 4-time All-Star


If there's one thing that's truly great about college football, its the rivalries.  Nothing ignites the fervor like playing that old nemesis across the way.  Often stretching back over a century or more, these age-old antagonisms are as deeply rooted in the culture of fandom as cheering for the team itself.  With Rivalry Week upon us, here is a look at the most intense and enduring college football rivalries of all time.
Name of Rivalry (if applicable)--Trophy Awarded (if applicable)--Team vs Team (Date of Original Matchup)
The Game--Ohio State vs Michigan (1897) Michigan leads 58-45 (six ties, Ohio State's 2010 vacated win not included)
Iron Bowl--James E. Foy, V-ODK Sportsmanship Trophy--Alabama vs Auburn (1893) Alabama leads 42-35 (1 tie)
The Game--Harvard vs Yale (1875)  Yale leads 65-56 (8 ties)
Army–Navy Game--Army vs Navy (1890) Navy leads 56-49 (7 ties)
Red River Rivalry--Golden Hat--Oklahoma vs Texas (1900)  Texas leads 60-43 (5 ties)
Michigan - Notre Dame Rivalry --Michigan vs Notre Dame (1887) Michigan leads 24-16 (1 tie)
Deep South's Oldest Rivalry--Auburn vs Georgia (1892) Auburn leads 55-54 (8 ties)
Florida State-Miami rivalry --Governor's Cup--Florida State vs Miami (1951) Miami leads 31-27
Clean, Old-Fashioned Hate-- Governor's Cup--Georgia vs Georgia Tech (1893) Georgia leads 64-39 (5 ties)
Big Game--The Stanford Axe--Stanford vs California (1892)  Standford leads 59-46 (11 ties)
Bedlam Series--Bedlam Bell--Oklahoma vs Oklahoma State (1900) Oklahoma leads 83-17 (7 ties)
Border War--Indian War Drum & Lamar Hunt Trophy--Kansas vs Missouri (1891) Missouri leads 57-54 (9 ties, record is disputed, 56-55 is also accepted by some)
Holy War --BYU vs Utah (1896)  Utah leads 57-34 (4 ties)
Saban Bowl--Alabama vs LSU (1895, nicknamed Saban Bowl in 2007 after Nick Saban's departure from LSU to Alabama)  Alabama leads 48-25 (5 ties)
Commonwealth Cup--Virginia vs Virginia Tech (1895) Virginia Tech leads 53-37 (5 ties)
South's Oldest Rivalry--North Carolina vs Virginia (1892) UNC leads 60-54 (4 ties)
Magnolia Bowl--Magnolia Bowl Trophy--LSU vs Ole Miss (1894) LSU leads 58-40 (4 ties)
Civil War --Platypus Trophy--Oregon vs Oregon State (1894) Oregon leads 61-46 (10 ties)
Lone Star Showdown--Lone Star Showdown trophy--Texas vs Texas A&M (1894)  Texas leads 76-37 (5 ties)
Duel in the Desert--Territorial Cup--Arizona vs Arizona State (1899) Arizona leads 47-39 (1 tie)
Seminole War Canoe Trophy--Florida vs Miami (1955) Miami leads 29-26
The World's Largest Outdoor Cocktail Party--Okefenokee Oar--Florida vs Georgia (1915) Georgia leads 50-40 (2 ties, Florida asserts a record of 49-40)
Egg Bowl--Golden Egg Trophy--Ole Miss vs Mississippi State (1901) Ole MIss leads 61-43 (6 ties)
Backyard Brawl--Pittsburgh vs West Virginia (1895)  Pitt leads 61-40 (3 ties)
Land of Lincoln/Sweet Sioux Tomahawk Trophy--Illinois vs Northwestern (1892, Sioux trophy established in 1945, changed to Land of Lincoln Trophy in 2009) Illinois leads 54-48 (5 ties)
Victory Bell--Duke vs North Carolina (1948)  UNC leads 40-22 (1 tie, 2 of UNC wins have been vacated)
Tiger Bowl--Auburn vs LSU (1901) LSU leads 27-20 (1 tie)
Heartland Trophy--Iowa vs Wisconsin (1894) Wisconsin leads 43-42 (2 ties)
Sunflower Showdown--Governor's Cup--Kansas vs Kansas State (1902) Kansas leads 64-42 (2 ties)
Sunshine Showdown--Florida vs Florida State (1958)  Florida leads 34-22 (2 ties)
Battle of the Brazos--Baylor vs Texas A&M (1899) A&M leads 68-31 (9 ties)
Victory Bell--Cincinnati vs Miami (OH) (1888) Miami leads 59-51 (7 ties)
Battle of the Brothers--Utah vs Utah State (1892) Utah leads 77-29 (4 ties)
The Battle for the Mitten--Paul Bunyan Trophy--Michigan vs Michigan State (1953) Michigan leads 68-33 (5 ties)
Battle of the Palmetto State--Clemson vs South Carolina (1896) Clemson leads 65-41 (4 ties)
Little Brown Jug--Michigan vs Minnesota (1903)  Michigan leads 73-24 (3 ties)
Apple Cup--Washington vs Washington State (1900) Washington leads 68-32 (6 ties)

Indiana–Purdue rivalry--Old Oaken Bucket--

Indiana vs Purdue

(trophy established in 1925, teams first m

et in 1891)  Purdue leads 72-38 (6 ties)

Old Wagon Wheel--BYU vs Utah State (1948)  BYU leads 46-34 (3 ties)
Rio Grande Rivalry--The Maloof Trophy--New Mexico vs New Mexico State (1894) New Mexico leads 68-31 (5 ties)
Baylor-TCU Rivalry--Baylor vs TCU (1899)  TCU leads 51-50 (7 ties)
Little Brown Stein--Idaho vs Montana (1903) Idaho leads 55-27 (2 ties)
Southwest Classic --Arkansas vs Texas A&M (1903) Arkansas leads 41-25 (3 ties)
Third Saturday in October--Alabama vs Tennessee (1901) Alabama leads 50-38 (7 ties)
Holy War --Frank Leahy Memorial Bowl and Ireland Trophy--Boston College vs Notre Dame (1975) Notre Dame leads 13-9
Oregon-Washington rivalry--Oregon vs Washington (1900)  Washington leads 58-42 (5 ties)
Paul Bunyan's Axe (formerly Slab of Bacon)--Minnesota vs Wisconsin (1890)  Minnesota leads 58-56 8 (ties)
Battle for the Rag--Tiger Rag or Victory Flag--LSU vs Tulane (1893)  LSU leads 69-22 (7 ties)
Border War--Bronze Boot--Colorado State vs Wyoming (1899)  Colorado State leads 56-44 (5 ties)
Missouri–Nebraska Rivalry--Victory Bell--Missouri vs Nebraska (1892) Nebraska leads 65-36 (3 ties)
CMU–WMU Rivalry Trophy--Central Michigan vs Western Michigan (1907)  WMU leads 44-36 (2 ties)
Arch Rivalry--Illinois vs Missouri (1896) Missouri leads 17-7
Rocky Mountain Showdown--Centennial Cup--Colorado vs Colorado State (1893) Colorado leads 62-21 (2 ties)
Battle of the Palouse--Idaho vs Washington State (1894) WSU leads 71-16 (3 ties)
Commander-in-Chief's Trophy--Air Force, Army, Navy (1972) Air Force: 18, Navy: 12, Army: 6
Tiger-Sooner Peace Pipe--Oklahoma vs Missouri (1929) Oklahoma leads 57-16 (4 ties)
UCLA-USC rivalry--Victory Bell--UCLA vs USC (1929)  USC leads 44-30 (7 ties)
Cy-Hawk Trophy--Iowa vs Iowa State (1977)  Iowa leads 39-20
Third Saturday in September--Florida vs Tennessee (1916)  Florida leads 22-19
Crab Bowl Classic--Maryland vs Navy (1905) Navy leads 14-7
Battle for the Palladium--The Palladium Trophy--Troy vs Middle Tennessee (1936)  Middle Tennessee leads 11-8
Boise State-Idaho rivalry--Governor's Cup--Idaho vs Boise State (1972) Boise State leads 22-17 (1 tie)
Battle for the Schwartzwalder Trophy--Ben Schwartzwalder Trophy--Syracuse vs West Virginia (trophy established in 1993, teams first met in 1945) Syracuse leads 32-27
Houston–Rice rivalry--Bayou Bucket--Houston vs Rice (1971)  Houston leads 27-11
Beehive Boot--BYU, Utah, Utah State, and Weber State (1971) BYU leads with 22 boots
Black and Blue Bowl-- Memphis vs Southern Miss (1935) Southern Miss leads 39-21 (1 tie)
Floyd of Rosedale--Iowa vs Minnesota (1891) Minnesota leads 61-44 (2 ties)
Maryland-Penn State rivalry--Maryland vs Penn State (1917) Penn St leads 35-1 (1 tie)
Maryland-Virginia rivalry--Maryland vs Virginia (1919)  Maryland leads 42-32 (2 ties)
Battle for the Golden Boot--Golden Boot--Arkansas vs LSU (1901, awarding of Golden Boot since 1996) LSU leads  35-20 (2 ties)
Maryland-West Virginia rivalry--Maryland vs West Virginia (1919) West Virginia leads 25-21 (2 ties)
The Battle of I-10 --Silver Spade--New Mexico State vs UTEP (1935)  UTEP leads 52-35 (2 ties)
Battle of I-75--Peace Pipe--Bowling Green vs Toledo (1919) Toledo leads 17-15
Florida Cup--Florida, Florida State, Miami (2002) Miami leads 3-1-1
Fresno State-San José State Rivalry--Fresno State vs San José State (1926) Fresno St leads 39-33 (3 ties)
Governor's Cup--Kentucky vs Louisville (1912) Kentucky leads 14-10
Illibuck--Illinois vs Ohio State (trophy established 1925, teams have met beginning in 1902,) Ohio St leads 62-30 (4 ties, record not including Ohio St's 2010 vacated win)
Notre Dame-USC rivalry--Jeweled Shillelagh--Notre Dame vs USC (1926) Notre Dame leads 43-34 (5 ties)
Keg of Nails--Cincinnati vs Louisville (1929)  CIncinnati leads 30-20 (1 tie)
Battle for the Mayor's Cup--Mayor's Cup--Rice vs SMU (1916)  SMU leads 47-40 (1 tie)
Legends Trophy--Notre Dame vs Stanford (1988)  Notre Dame leads 17-8
Megaphone Trophy--Michigan State vs Notre Dame (1949)  Notre Dames leads 32-26-1 since trophy began and 46-28-1 all time
Battle for the Iron Skillet--Iron Skillet--TCU vs SMU (1925)  TCU leads 44-40 (7 ties)
Michigan MAC Trophy--Central Michigan, Eastern Michigan, Western Michigan (2005) CMU-3, EMU-3, WMU-1
Old Brass Spittoon--Indiana vs Michigan State (1950) Michigan State leads 41-14 (1 tie)
Purdue Cannon--Illinois vs Purdue (1943)  Purdue leads 31-27 (2 ties)
Ram-Falcon Trophy--Air Force vs Colorado State (1980) Air Force leads 28-19 (1 tie)
Shillelagh Trophy--Notre Dame vs Purdue (1957) Notre Dame leads 55-26 (2 ties)
Telephone Trophy--Iowa State vs Missouri (1959)  Missouri leads 31-18 (3 ties)
Textile Bowl--Clemson vs North Carolina State (trophy awarded since 1981, teams have met beginning in1899) Clemson leads 51-27 (1 tie)
The Battle of the Land Grants--Land Grant Trophy--Michigan State vs Penn State (1993) Penn St leads 13-5
Battle for Nevada--Fremont Cannon--Nevada vs UNLV (1969)  Nevada leads 22-15
Shula Bowl--Don Shula Award--Florida Atlantic vs Florida International (2002)  Florida Atlantic leads 8-2
O'Rourke–McFadden Trophy--Boston College vs Clemson (trophy established 2008, teams first met in 1940) Clemson leads 10-9 (2 ties)
River City Rivalry--Paddlewheel Trophy--Cincinnati vs Pittsburgh (trophy awarded since 2005, teams played 4 times prior)  Ptt leads 8-3
Battle for the Bone--Fresno State vs Louisiana Tech (1986)  Fresno St leads 7-4
Battle for the Milk Can--Milk Can--Boise State vs Fresno State (trophy established in 2005, teams first met in 1977)  Boise leads 6-1
Wagon Wheel--Akron vs Kent State (1946)  Kent St leads 21-19 (1 tie)
Governor's Victory Bell--Minnesota vs Penn State (1993)  Penn St leads 8-4
Gansz Trophy--Navy vs SMU--(trophy established in 2009, trams first met in 1930) Navy leads 9-7
Battle for the Bones--The Bones--UAB vs Memphis (1997) UAB leads 10-4
Friends of Coal Bowl--Governor's Cup--West Virginia vs Marshall (trophy established in 2006, teams first met in 1911) West Virginia leads 11-0
Jefferson-Eppes Trophy--Florida State vs Virginia (1995) Florida St leads 14-2
Written by Peter Hart and Ben Pogany
Point: 96 Teams?  The More, The Merrier!
By Peter Hart

So the NCAA is considering expanding The Tournament to 96 teams, as everyone has surely heard.  My first thought: crazy.  My second thought: awesome.  My thoughts now: crazy awesome.
First, let's get the obvious out of the way.  This is a ploy for more money.  CBS and the N
CAA want to make more money, and couldn't be more transparent about it.  Who cares?  They are going to take my single favorite thing in sports and make it bigger, longer, wilder, more unpredictable, and more entertaining.  What's not to like?  The coaches and players are already in favor of it; it means a better chance of a validation of their season and an appearance on the national stage.  Clearly CBS and the rest of the sports media will love it; they're already seeing dollar signs.  Fans will love it; what fan wouldn't love more games, more upsets, more buzzer beaters, more...madness?
In 1985, as we all know, the tournament expanded from 32 teams to 64.  There was an initial outcry, but people quickly realized that having 32 first-round games in 2 days (and 48 in 4 days) was the most exciting thing they'd ever seen.  That's what this change means--an extra round of 32 games in 2 days.  This--not the finals--is unequivocally the most exciting and entertaining part of the tournament.  For a few glorious days a year, we are blessed with unending, nonstop basketball, underachieving mid-major squads fighting for their lives, with their seasons--and our brackets--on the line.  No one expects these teams to go all the way, but they don't have to; for the little guys, legends are made in these first few days.  No one can remember the Final Four from 1998, but everyone can remember Valparaiso that year, buzzer-beating its way into the Sweet 16.
So let's analyze a 96-team system and why it would make this perfect tourney even more perfect.  First of all, 96 teams, when you're dealing with well over 300 D-1 schools, is still approximately the same percentage of playoff teams as the MLB, and much lower than the NFL.  In the new first round, the top 32 teams sit with a bye, while the other 64 play it out.  You know the play-in game between the bottom two squads they do now?  That's the idea, but tourney-wide.  The 32 bye teams is appropriate anyway; the ranked teams (top 25) plus 7 more conference winners (probably from mid-majors) get byes.  It makes perfect sense.  So the 64 at-large teams duke it out in a wild, exciting classic first round full of unknown teams, underdogs, and upsets.  Then, ANOTHER ROUND OF 64-TEAM MAYHEM.  What could be better?  Then the tournament progresses as usual, but maybe with a few even more unheard-of teams showing people up.  It will make getting to the Sweet 16 something to really brag about too; either you have to win 3 games, or be a top team and win 2.  Bottom line: we're taking the 48 games in 4 days and changing it to 80 games in 6 days.  Not
just expanding the best event in sports, but expanding the best part of the best event in sports.
So what's standing in the way?  Purists.  People who say the sport is cheapened, the tournament is cheapened, the regular season is cheapened.  That teams that don't "deserve it" will get in.  First of all, the regular season isn't cheapened, it's really strengthened; the teams that are really the best teams get a bye.  Second, we've only determined who "deserves it" based on the equally arbitrary 64 team system.  Who says that 64 teams deserve it?  The tournament used to be 32 teams.  Before that, 16.  Before that, 8.  And each time they expanded, the same group of people complained that it would cheapen college basketball, that teams that didn't "deserve it" would get in.  And each time, the tournament became more exciting, more watched, more anticipated, and people quickly got used to the new number of "deserving" teams.  Which really reveals a different concern: people are used to this format.  They don't want the tournament to change because they have come to know it and love it.  They can't imagine something so perfect could be improved.  For many, it's too much to handle.  They can't imagine a bracket with 50% more teams to keep track of.  Well 25 years ago we all got used to a bracket with 100% more teams and look how much better it is.  The argument that 64 just fits on a piece of paper nicely is not enough to outweigh the potential for the overwhelming excitement that 96 promises.
What are we waiting for?  The sooner, the better.  The more, the merrier.
Counterpoint: Just Say No!
By Ben Pogany

I am not a sports purist.  I support limited instant-replay in baseball, an overhaul of NFL overtime rules, and the annihilation of the BCS.  I am generally open to any idea that will make my sports better.  That said, I hate hate hate the idea of expanding the dance to 96 teams.  March Madness is one of the few perfect things in sports.  Now I know that that's what they said when the field was 16 teams, and again when it was 32 teams, but I wasn't around for that and am telling you now that 64 teams is the perfect number.  Half the teams get in by winning their conferences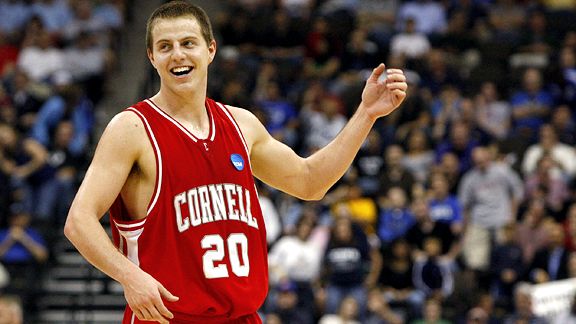 , the other half have to prove to the selection committee that they are worthy of an at-large bid.  We are left with the perfect mix of big-time schools and mid-majors.  No one can say that any team doesn't deserve to be there. 


Of course, we all agree that it doesn't get any better than those first four days of, well, madness, when teams are playing round the clock.  Cinderellas taking on giants…upsets abounding…Greg Gumble.    Of course, the logical thought would be if 4 days of constant basketball is great, how could 6 days with 32 more teams not be better. Mid-majors don't enter the tournament expecting to reach the final four.  They know that just being there is a tremendous honor and opportunity in itself.  For many of these smaller schools, it might be the first time they've ever sent a representative to the Dance.  Of course they want to win, but just to be there is an experience to be cherished forever.  Add 32 mediocre teams and see what kind of honor it becomes.  These mid-majors still won't have a shot at winning, but n
ow the magnitude of having reached the Big Dance has diminished to the point that we can barely even call it an worthwhile accomplishment.  March Madness is great because a select few mid-major schools have a shot to play with the big boys.  Give too many teams a shot and you will kill the magic.

Secondly, expansion will kill any semblance of meaning in the regular season.  While this probably means nothing to 95% of casual fans who only tune into the sport when it's time to fill out their office bracket, for those that have been paying attention all season expanding the dance will be catastrophic.  Yes, college hoops admits a far lower percentage of its teams to the postseason than most professional sports, but this is only when you take into account the entirety of the 31 conferences.  To be blunt, there are 6 conferences that matter, and by matter, I mean draw substantial interest from viewers across the country.  As it is, over half of these teams waltz into the tournament.  If the dance were to be expanded to 96, and the additional 32 teams were at-large bids, that percentage would skyrocket to 80 or 90%.  Moreover, some of the best basketball of the year is played during the conference tournaments, when bubble teams are fighting for their lives to seize one of the few remaining at-large bids.  With the relaxed qualifications that a 96-team field would entail, these conference tournaments would be exercises in futility.  Any big-6 team that is making their conference tournament will already be all but guaranteed a spot in the Big Dance, thereby robbing these conference tournaments of any true significance, and with it, marketable appeal.

With all this being said, I am not naïve. Expansion will make more money, and sadly, that is often the sole criterion in such decisions.  I only hope the people in charge ultimately put the good of the game over the good of their bank accounts.
We made it folks. The NFL draft has passed us by after months of pointless analysis and "expert" projections of who might land where. A lot of good that did us right? (Just ask Josh McDaniels and Tim Tebow) As we anticipate the start of mini-camp, it is impossible to know what picks will pay off and what picks will fail. Rather than aimlessly choose what picks will actually work out, I decided to analyze the top ten greatest NFL draft busts of all time.

1) Ryan Leaf (QB, Washington State)
-Second overall selection by the Chargers in 1998. 13 touches, 33 picks and countless tirades and public tantrums – and all of this after a 2-0 start in the city discovered by the Germans. He is now the punch line of every NFL draft joke there is. Also a known felon. I wonder how hard it would be to get a Ryan Leaf jersey?

2) Tony Mandarich (OT, Michigan State)
-At the time of his selection by the Green Bay Packers (No. 2 overall), scouts called him the only "sure thing" in the 1989 draft.  He then shrunk down as he entered his rookie season and was subsequently cut after three pathetic seasons. The only sure thing about Mandarich was that he used steroids in college.

3) Akili Smith (QB, Oregon)
-The 3rd overall draft pick by the Bengals in 1999, he started 17 games over four miserable seasons in Cincy.  He was cut in 2002 and slipped deeper into NFL anonymity. Last seen on the sidelines of the Tampa Bay Bucs in 2005. He failed in the CFL too, in case you needed more evidence.

4) Lawrence Phillips (RB, Nebraska)
-Had some character issues in college, but that didn't stop the Rams from drafting him 6th overall in the 1996 draft. He was released after 25 games for insubordination, went to the Dolphins in 1997 and was cut after two games after assaulting a woman. He tried again in 1999 with the 49ers, but was then cut during the regular reasons after skipping a practice. Stay classy, Lawrence.

5) Heath Schuler (QB, Tennessee)
-The man killed it in college and was selected 3rd by the Redskins in the 1994 draft. He quickly fell out of favor with 'Skins fans after a 13-day holdout and generally awful play during his rookie season. He was then beat out by Gus Frerotte for the starting job, 7th round pick out of Tulsa.

6) Ki-Jana Carter (RB, Penn State)
-The Penn State running back curse haunted the Bengals, who selected Carter 1st overall in the 1995 Draft. He was injured the in pre-season on his FIRST carry and is probably still recovering to this day, after compiling 1,144 rushing yards in ten seasons.

7) Curtis Enis (RB, Penn State)
-Like his fellow Nittany Lion above, Enis never really got it going at the professional level. The Bears took him 5th overall in the 1998 Draft. He played 36 games in three years, with 1,497 yards and 4 touches. He retired early due to a shady knee in
2001 at the tender age of 24.

8) Mike Williams (WR, USC)
-Drafted tenth overall by Matt Millen. Do I really need to say more? The Lions are still recovering from the Millen era, and this pick is a perfect example. Williams was a freak at USC, but become sluggish and lazy at the pro ranks. DeMarcus Ware went one pick before him.

9) Peter Warrick (WR, Florida State)
-The Bengals draft well again. He looked like sure-fire stud after a remarkable Sugar Bowl to round out his college career. He went 4th overall in 2000 Draft and after six awful seasons in Ohio, left the NFL.

10) Joey Harrington (QB, Oregon)
-Joey, Joey, Joey. He was supposed to be the man in Detroit and was drafted 3rd overall in the 2002 draft. After receiving death threats in the Motor City because of his generally mediocre play, Harrington bounced around to several NFL teams looking for a home. He is currently a free agent.
Page 10 of 13