Sometimes it's more than just a game.  Sport has the power to effect, and be effected by, the forces of history in ways that few other institutions can.  It can both incite and unite, change minds and inflame passions.  The following moments spilled over from the sports page to the front page, transcending the game to leave an indelible mark upon the course of history.
1)  Jackie Robinson debuts with the Brooklyn Dodgers, April 15, 1947—-Dodgers owner Branch Rickey was looking for someone "with guts enough not to fight back." In that way, Jackie Robinson was the perfect person to break the color barrier: courageous, resilient, and perhaps most importantly, one hell of a ballplayer. America was fresh off victory in Europe, a society coming to terms with a changing identity and new, more prominent place in the world. For many, baseball seemed like the one constant to cling to, a haven existing outside of the changing times, symbolizing all that was right in American life. When a black man suddenly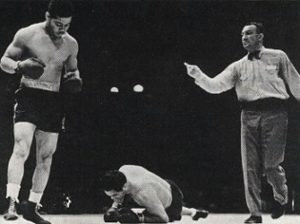 stepped up to the plate in one of America's most hallowed stadiums, in its biggest city, wearing the colors of one its most beloved teams, that haven seemed to be crumbling. Right away, Jackie became a lighting rod for vicious racially-motivated hostility, both from fans, opponents, and even some of his own teammates. Through it all, Jackie just continued to do what he knew best, play ball. His number 42 now adorns every major league stadium, retired to all players, a symbol of the shared impact he made not only on his sport, but on American life even to this day.
2)  Joe Louis vs Max Schmeling, June 22, 1938 —- After beating Louis in 1936, German wunderkind Max Schmeling had ingratiated himself as Hitler's darling, a supposed paragon of Aryan superiority.  Two years later, Nazi fervor was at its peak and war was just over the horizon.  A rematch was scheduled that summer, taking on a world of meaning as a battle of both race and country in a preamble to the growi
ng world conflict.  FDR himself chided "Joe, we need muscles like yours to beat Germany." The symbolism deepened as Schmeling's Nazi publicist announced that their prize money would go to build German tanks.  At Yankee Stadium, in front of over 70,000 spectators, the Brown Bomber resoundingly defeated Maximilian in just under 2 minutes to become a nationwide source of pride across racial lines.
3)  Massacre at the 1972 Munich Olympics, September 5, 1972 —-It was 4:30 AM on the night of September 5th, 1972, and the Israeli Olympic team were fast asleep in their apartments within Munich's Olympic Village after a night out. Suddenly, eight masked men burst in carrying assault rifles and grenades.  Despite putting up a fight, two Israelis were killed outright while nine others were taken hostage.  Claiming to represent the terrorist organization Black September, the kidnappers demanded the release and safe passage of over 200 predominately Palestinian prisoners jailed in Israel.  Refusing to negotiate, the Israeli and German authorities instead pretended to provide the terrorists transport to Cairo, planning to ambush them during the plane boarding. However, the rescue attempt was badly botched, and when the dust settled, 11 Israelis, 1 German, and 5 of the terrorists lay dead.
4)  Magic Johnson Announces that he's HIV positive, November 7, 1991 —- "Because of the…the HIV virus that I have attained, I will have to retire from the Lakers…today." AIDS had finally thrust itself into the public consciousness in a way we could no longer ignore.  Previously cast aside as a disease exclusive to homosexuals and junkies, America was now forced to accept that AIDS was everybody's problem.  If it could happen to Magic, an athlete just about as beloved as they came, then surely it could happen to anyone.
5)  The Rugby World Cup in South Africa, June 1995 —- A year after Nelson Mandela had been elected president, effectively bringing an end to South African apartheid, the country was thrust onto the world stage as hosts of the 1995 Rugby World Cup.  In a country still bearing the scars of a divided populace, to non-whites the national Rugby team, the Springboks, represented oppression and prejudice.  Mandela recognized that if he could bring about a shared pride in the national team, it would go a long way towards uniting the country. Slowly, whites and blacks alike began to rally around the Springboks as they knocked off one team after the other to ultimately face New Zealand, a team considered to be nearly invincible, in the finals.  As Mandela sported the Springbok colors, captain François Pienaar propelled his team to an improbable victory, bringing South Africans of all races together in a scene that only months earlier had seemed unthinkable.
6) Muhammad Ali refuses to serve in Vietnam War, April 28, 1967
—- The most popular and recognizable sports figure of his era, Muhammad Ali put his reputation, and freedom, on the line when he
refused to accept his induction into the armed forces
.  Arguing that the Vietnam War conflicted with his Muslim beliefs, Ali famously remarked "I ain't got no quarrel with them Viet Cong … They never called me nigger."  Upon his refusal, Ali was immediately arrested, stripped of his title, and made to forfeit his boxing license.  Two months later, a jury found him guilty of refusing induction, a crime that carried the possibility of 5 years in prison and a $10,000 fine.  Through a series of appeals, the case made its way all the way up to the Supreme Court, where Ali was finally acquitted in
Clay v. United States
.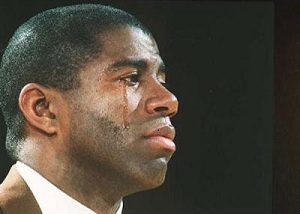 7)
Colombian defender Andres Escobar scores an own goal in the 1994 World Cup, June 22, 1994 —-
"Our country's image was resting on our National team.  It was the banner we showed to the world,"  said Fernando Briito, Head of Intelligence for Colombian President Gaviria."  
Andres Escobar was the perfect centerpiece to that banner; handsome, innocent, and
beloved by all.
The 1994 World Cup was in many ways 
Colombia's coming out party, its national team arising from both relative obscurity internationally and drug-fueled chaos within.  Pablo Escobar had finally been taken down months earlier, and Colombia's people were desperate to create a national identity apart from its perception as the cocaine and crime capital of the world.  
In an instant, the house of cards toppled.  Facing elimination against the United States,
Andres slid to deflect a US cross only to have the ball wind up in the back of his own net, at once dashing Colombia's World Cup aspirations
.  Just days later Andres was gunned down by his own countrymen, further cementing Colombia's seemingly inescapable image as a region ever tied to turmoil.  For more on this amazing story, check out the phenomenal documentary 
The Two Escobars
by Jeff and Michael Zimbalist.
8)  Jack Johnson vs James Jeffries, July 4, 1910 —- In the early 20th Century, Jack Johnson was the most well known African American on the planet, accumulating over 50 victories and capturing the World Heavyweight title in 1908 that had just a year earlier been off limits to blacks.  Racial outrage at this perceived injustice prompted a widespread call for a "Great White Hope" to take the title back for the white race.  One after the other fell to Johnson before the former undefeated heavyweight champion James Jeffries emerged from retirement, citing a feeling of obligation to "demonstrate that a white man is king of them all." So it was that on July 4, 1910, the match billed as "The Fight of the Century" took place in front of 20,000 people in Reno, Nevada.  Johnson pummeled Jeffries for 15 rounds before Jeffries' handlers called the fight, hoping to avoid the impending knockout that would further humiliate the supposed "Great White Hope." The outcome sparked riots across the country as black revelers clashed with angry whites, ultimately leading to 25 deaths.
9)  "Blood in the Water" match between Hungary and the USSR, December 6, 1956 –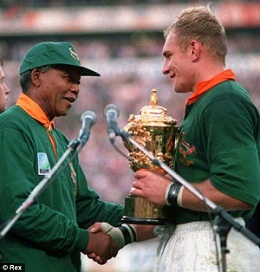 — 1956 was drawing to a close, and while Hungarian athletes were off competing in the Melbourne summer games, back home their countrymen were still reeling from the devastating carnage of a failed revolution against the Soviet occupation.  When the Hungarian water polo team met the USSR in a hotly-contested semifinal match, it goes without saying that there was no love lost between the two bitter rivals.  Over the course of a brutally physical bout, the Hungarian nationals mounted a 4-0 lead.  Finally, the frenzy reached its breaking point when Soviet Valentin Prokopov struck Hungarian captain Ervin Zador, opening a bloody gash that immediately set off the Hungarian-dominated crowd into a near riot.  A victorious Hungary would go on beat Yugoslavia in the finals to win Olympic gold, restoring some semblance of dignity to an embattled nation.
10)  Pat Tillman leaves football to fight in Iraq, 2002 —- A promising defensive back for the Arizona Cardinals, Pat Tillman would forgo a $3.6 million contract to instead serve his country. He took part in the initial invasion of Iraq before being deployed to Afghanistan, where on April 22, 2004, he was killed by friendly fire.  What followed was a cover-up that rose to the highest ranks of the military, as authorities scrambled to protect public perception of the war effort by purporting that Pat had died heroically as a result of enemy fire. Congressional inquiries would later prove that superiors had warned witnesses not to divulge the true nature of his death, ultimately contributing further to the growing distrust of government and anti-war sentiment.
————–Honorable Mentions————–
—-Jesse Owens at the Berlin Olympics, August 1936
—-The Miracle On Ice, February 22, 1980
—-Tommy Smith and John Carlos give black power salute atop Olympic medal stand, October 16, 1968
—-Len Bias dies of cocaine overdose, June 19, 1986
—-All-black Texas Western defeats all-white Kentucky (including a young Pat Riley) in the 1966 NCAA men's basketball final, March 19, 1966
—-The Battle of the Sexes, Billie Jean King vs Bobbie Riggs, September 20, 1973