Football
Last Updated on Sunday, 19 February 2017 20:34
Written by Ben Pogany
1)
Packers
- Founded in 1919.
9 league championships, 4 Super Bowls and 9 conference titles
.
There is perhaps no city as intimately intertwined with its sports team as Green Bay is with the Packers. The Packers in large part built professional football to what it is today, and the ultimate hardware still bears their patron saint's name.
Wins:
698 (2nd)
All-time Win %:
.565 (4th)
Playoff Appearances:
30 (3rd)
Last Championship:
2010

Hall of Famers:
26

Defining Coach:
Vince Lombardi
The Immortals:
Bart Starr, Don Hutson, Reggie White, Brett Favre, Ray Nitschke, Paul Hornung, Forrest Gregg, Tony Canadeo, Henry Jordan, Aaron Rodgers.
2)
Steelers
- Founded in 1933 as the Pittsburgh Pirates before switching to the Steelers in 1940.
6 Super Bowls and 8 conference titles.
The Steelers were relative late bloomers compared to their contemporaries, but once the Super Bowl era kicked off, the Steel Curtain soon descended upon the NFL.  Owned by the Rooney family since their inception, they ruled the seventies and are now sneaking up on the Patriots for the team of the 21st Century.
Wins:
569 (4th)
All-time Win %:
.523 (14th)
Playoff Appearances:
28 (tied for 5th)
Last Championship:
2008

Hall of Famers:
23
Defining Coach:
Chuck Noll
The Immortals:
Joe Greene, Terry Bradshaw, Jack Lambert, Franco Harris, Rod Woodson, Lynn Swann, Jack Ham.
3)
Patriots
-Founded in 1959 as the Boston Patriots before expanding their base to all of New England in 1971.  
5 Super Bowls and 9 conference titles.
A relative newcomer to the football landscape, the Brady/Belichick era has catapulted a once floundering franchise into perennial Super Bowl contenders and good for the third greatest pro football franchise of all time.
Wins:
438 (14th)
All-time Win %:
.540 (9th)
Playoff appearances:
21 (16th)
Last Championship:
2017

Hall of Famers:
4

Defining Coach:
Bill Belichick
The immortals:
Tom Brady, John Hannah, Rob Gronkowski, Mike Haynes, Andre Tippet, Adam Vinatieri.
4)
Cowboys
- Founded in 1960.
5 Super Bowls and 8 conference titles.
Few outside of Dallas would agree that the Cowboys still deserve to be called "America's team." But in truth, what could be more American than amassing wealth, and on that front, no one holds a candle to the Boys.  Jim Jones has built the Cowboys into the most valuable franchise in America, and are second only to Manchester United worldwide. Though playoff wins are few and far between nowadays (and that's an understatement), their ownership of the nineties alone puts them at a solid third place.  
Wins:
464 (13th)
All-time Win %:
.571 (2nd)
Playoff appearances:
31 (2nd)
Last Championship:
1995

Hall of Famers:
17

Defining Coach:
Tom Landry
The Immortals:
Bob Lilly, Emmitt Smith, Roger Staubach, Randy White, Troy Aikman, Michael Irvin, Tony Dorsett, Deion Sanders
5)
Bears
- Founded in 1919 as the Decatur Staleys.
8 league championships, 1 Super Bowl, and 4 conference titles.
Wins:
730 (1st)
All-time Win %:
.577 (1st)
Playoff Appearances:
25 (10th)
Last Championship:
1985
Hall of Famers:
31

Defining Coach:
George Halas
The Immortals:
Walter Payton, Dick Butkus, Mike Ditka, Bronko Nagurski, Gale Sayers, Sid Luckman, Red Grange, Mike Singletary, Bill George.
6)
49ers
- Founded in 1946.
5 Super Bowls and 6 conference titles.Wins:
545 (6th)
All-time Win %:
.558 (5th)
Playoff appearances:
26 (8th)
Last Championship:
1994

Hall of Famers:
16

Defining Coach:
Bill Walsh
The Immortals:
Jerry Rice, Joe Montana, Ronnie Lott, Steve Young, Jimmy Johnson, Leo Nemellini, Roger Craig, Dave Wilcox, John Brodie, Patrick Willis.
7)
Giants
- Founded in 1925.
4 league championships, 4 Super Bowls and 11 conference titles.
Wins:
661 (3rd)
All-time Win %:
.547 (7th)
Playoff appearances:
31 (1st)
Last Championship:
2011

Hall of Famers:
27

Defining Coach:
Bill Parcells
The Immortals:
Lawrence Taylor, Michael Strahan, Emlen Tunnell, Phil Simms, Sam Huff.
8)
Browns
- Founded in 1946.
8 league championships and 11 conference titles.

Though today's Browns are more synonymous with torture and misery, it might be hard to imagine that at one time the North Coast ruled the football universe. Unfortunately, the Super Bowl era has not been kind to Cleveland.
Wins:
498 (11th)
All-time Win %:
.535 (11th)
Playoff Appearances:
28 (4th)
Last Championship:
1964
Hall of Famers:
21

Defining Coach:
Paul Brown
The Immortals:
Jim Brown, Otto Graham, Paul Warfield, Lou Groza, Ozzie Newsome.
9)
Redskins
- Founded in 1932 as the Boston Braves. However, because some perhaps saw the name Braves as being a bit disrespectful towards Native Americans, they changed their moniker to the Redskins a year later. They moved to Washington in 1937, where they've won
2 league championships, 3 Super Bowls and 5 conference titles.Wins:
565 (5th)
All-time Win %:
.509 (16th)
Playoff Appearances:
23 (11th)
Last Championship:
1991
Hall of Famers:
23

Defining Coach:
Joe Gibbs
The Immortals:
Sammy Baugh, Joe Theismann, Darrell Green, Sonny Jurgensen.
10)
Raiders
- Founded in 1960 as the Oakland Senores.
1 league championship, 3 Super Bowls and 4 conference titles.Wins:
434 (15th)
All-time Win %:
.536 (10th)
Playoff appearances:
21 (tied for 14th)
Last Championship:
1983
Hall of Famers:
19

Defining Coach:
Al Davis, John Madden
The immortals:
Gene Upshaw, Jim Otto, Art Shell, Marcus Allen, Willie Brown, Ted Hendricks.
Also in the conversation:
Broncos, Dolphins, Colts, Rams, Ravens.

Some less-than-flattering distinctions:
--The Cardinals currently possess the longest championship drought in pro football, dating back to 1947. They also have an appalling 716 losses to their credit, almost 100 more than the next most losing team: the Detroit Lions.
--The Vikings, Bengals, and Falcons are the only teams that have existed 40+ years and are still without a championship. In addition, the Eagles, Lions, Titans/Oilers, Chargers, Browns, Bills, Jets, and Chiefs have waited over 40 years since their last championship.
--The Buccaneers are the only team with sub-.400 all time win percentage (.392).
They say that those who can't do, teach.  When it comes to coaching football, however, a little on-field experience never hurt anyone.  Though the sidelines will never boast the skills of say the pregame roundtables, every once in awhile an athlete comes along who finds a way to transmit his own talents to the next generation.  Here are the former playing careers of today's NFL coaches.   


Mike Singletary (Vikings assistant)- Samurai Mike was a two-time All-American at Baylor University before being drafted by the Chicago Bears in 1981. He went on to start 172 games for the Bears during his 12-year career (second most in club history), amassing an impressive 1,488 career tackles.  One of the most frightening "Monsters of the Midway," Singletary was a seven time first team All-Pro and two time Defensive Player of the Year.  Elected to the Pro Football Hall of Fame in 1998, Singletary fared considerably less well on the sidelines, lasting a rough three years at the helm for the Niners from 2008-10.  He is currently an assistant for the Minnesota Vikings.
Jack Del Rio (former Jaguars coach)- The longtime Jags coach began his career as an All-American linebacker at USC, during which he would take MVP honors in the 1985 Rose Bowl. Del Rio concurrently excelled on the diamond, batting .340 and catching for a USC squad that included both a young Mark McGwire and Randy Johnson. Del Rio would be selected by the Saints in the 1985 NFL Draft, going on to play 11 years for four teams and earning All-Pro distinction in 1994. 
Mike Munchak (Titans)- Munchak was a nine time Pro-Bowl offensive guard for the Oilers, later elected to the 1980's All-Decade team.  He entered the Hall of Fame in 2001.
Ken Whisenhunt (Cardinals)- Whiz played for Georgia Tech in the early eighties, where he achieved first team All-ACC honors during his junior and senior seasons.  Drafted in the 12th round by the Atlanta Falcons, he would last four years as their tight end before stints with the Redskins and Jets.  In all, he spent 9 years playing in the NFL and almost a decade more coaching before taking the head reigns for the Cards in 2007.
Gary Kubiak (Texans)- A member of the Texas High School Football Hall of Fame, Kubiak started behind center for Texas A&M before going on to have the unfortunate position of playing behind John Elway in his nine seasons with the Broncos. 
Ron Rivera (Panthers)- The Panthers head man compiled the then record for sacks and career tackles at UCLA before submitting nine years at linebacker for the one of the all time defenses in the Chicago Bears of the mid-eighties..
Jim Zorn (Chiefs Assistant)- After going undrafted from Cal Poly Pomona, Zorn became the starting QB for the Seahawks from '76-'83, becoming the second player ever inducted into the Seahawks Ring of Honor.  He spent the next three years serving as backup for the Packers, Buccaneers, and Winnipeg Blue Bombers.
Lovie Smith (Bears)- A three-time high school state champion, Smith played college football at Tulsa, where he would garner two All-American nods at linebacker and safety.
Tom Coughlin (Giants)- Coughlin attended Syracuse University where he played running back.  In 1967, he set the school's single-season receiving record.
Sean Payton (Saints)- A journeyman in the truest sense, Payton holds the distinction of being the only athlete to ever start in five different football leagues over the course of just two years. A successful quarterback out of Eastern Illinois, Payton would go on to play in the inaugural season of the Arena Football League in 1987.  He was subsequently sold for $1,000 to the CFL's Ottawa Rough Riders before landing in the NFL as a Chicago "Spare Bear" scab during the '87 player's strike.  Once normal play resumed, Payton fell to the UK Budweiser National League, where he led the Leicester Panthers to the quarterfinals in his first and only year.  However, his journey had just begun.  Payton would ultimately coach at four different colleges and three different NFL teams before finally finding a home with the New Orleans Saints in 2006.
John Fox (Broncos)- Fox was a defensive back at San Diego State under future NFL head coach Herman Edwards.
Norv Turner (Chargers)- Backed up future Hall-of-Famer Dan Fouts for the Oregon Ducks of the early seventies.
Jim Harbaugh (49ers)- An all time Michigan great, Harbaugh excelled under center for the Bears and Colts, the latter electing him to their Ring of Honor for his winning leadership of their mid-nineties clubs.  Despite his success, he is perhaps best remembered around Indianapolis as the guy Peyton Manning replaced.
John Harbaugh (Ravens)- Older brother John was a defensive back at Miami.
Chan Gailey (Bills)- Quarterback at Florida.
Pat Shurmur (Browns)- Co-captained the Rose Bowl Champion 1988 Michigan St. Spartans.
Jason Garrett (Cowboys)- Long time backup to Troy Aikmen during the mid-nineties.
Jim Caldwell (Colts)- Defensive back at Iowa.
Leslie Frazier (Vikings)- Member of the "G Crew" who spent the early '80s as a defensive back with the Bears.  Coaches Frazier, Mike Singletary, Jeff Fisher, and Ron Rivera all received rings as players from the 1985 Super Bowl Champion Bears.
Jim Schwartz (Lions)- Schwartz played four years of linebacker for the Hoyas.
Andy Reid (Eagles)- Offensive guard for BYU.
Mike Shanahan (Redskins)- Quarterbacked at Eastern Illinois until a crushing hit on the practice field ruptured one of his kidney's, causing his heart to stop for over 30 seconds.  Shanahan was so close to death that a Catholic priest was actually summoned to read him his last rites.  Needless to say, that would mark the end of his playing days.
Mike Smith (Falcons)- An All-State linebacker in high school, Smith went on to grab defensive MVP honors twice for East Tennessee State before landing in the CFL for a short stint in 1982.
Rex Ryan (Jets)- Sexy Rexy served as a loyal foot soldier for Southwestern Oklahoma St Bulldogs, playing defensive end opposite his twin brother Rob in 1986.
1) 
Alabama Crimson Tide- 15 claimed national championships (10 national polls) and 35 bowl victories.
First season: 1892
Last championship: 2012
All-Time Win %: .733
Current conference: SEC
Defining Coach: Bear Bryant
Top 15 NFL Alumni:
Bart Starr, Joe Namath, John Hannah, Don Hutson, Ozzie Newsome, Derrick Thomas, Dwight Stevenson, Ken Stabler, Chris Samuels, Bob Baumhower, Cornelius Bennett, Lee Roy Jordan, Shaun Alexander, E.J. Junior, Julio Jones.
2) 
Notre Dame Fighting Irish- 11 claimed national championships (8 national polls) and 15 bowl victories.
First season: 1887
Last championship: 1988
All-Time Win %: .726
Current conference: Independent
Defining Coaches: Knute Rockne, Frank Leahy, Lou Holtz
Top 20 NFL Alumni:
Joe Montana, Alan Page, Tim Brown, Paul Hornung, Curly Lambeau, Nick Buoniconti, Dave Casper, Joe Theismann, George Trafton, Wayne Millner, George Conner, Jerome Bettis, George Kunz, Ricky Watters, Bryant Young, Bob Kuechenberg, Daryle Lamonica, Justin Tuck, Mark Bavaro, Bob Toneff.
3) 
USC Trojans- 11 claimed national championships (7 national polls including vacated 2004 season) and 32 bowl victories.
First season: 1888
Last championship: 2004 (vacated)
All-Time Win %: .708
Current conference: Pac-12
Defining Coaches: Howard Jones, John McKay, Pete Carroll
Top 30 NFL Alumni:
Ronnie Lott, O.J. Simpson, Bruce Matthews, Junior Seau, Troy Polamalu, Marcus Allen, Anthony Muñoz, Ron Yary, Lynn Swann, Clay Matthews, Red Badgro, Frank Gifford, Ron Mix, Keyshawn Johnson, Marvin Powell, Willie Wood, Willie McGinest, Joey Browner, Tony Boselli, Dennis Smith, Tim McDonald, Jon Arnett, Rod Martin, Mark Sanchez, Carson Palmer, Chip Banks, Sam Cunningham, Mosi Tatupu, Lofa Tatupu, Matt Cassel.
4) 
Oklahoma Sooners- 7 national championships (7 national polls) and 27 bowl victories.
First season: 1895
Last championship: 2000All-Time Win %: .720
Current conference: Big 12
Defining Coaches: Bennie Owen, Barry Switzer
Top 10 NFL Alumni:
Lee Roy Selmon, Adrian Peterson, Ralph Neely, Bobby Boyd, Tommy McDonald, Greg Pruit, Billy Simms, Roy Williams, Keith Jackson, Tommie Harris.
5) 
Michigan Wolverines- 11 claimed national championships (2 national polls) and 20 bowl victories.
First season: 1879
Last championship: 1997 (shared with Nebraska)
All-Time Win %: .732
Current conference: Big Ten
Defining Coaches: H. Fielding Yost, Bo Schembechler
Top 25 NFL Alumni:
Tom Brady, Charles Woodson, Len Ford, Dan Dierdorff, Tom Mack, Bill Hewitt, Mike Ken, Elroy Hirsch, Steve Hutchinson, Al Wistert, Ty Law, Anthony Carter, Trevor Price, Rick Volk, Joe Runyan, Randy Logan, Reggie McKenzie, Amani Toomer, Jake Long, Desmond Howard, Dave Brown, Jim Harbaugh, Ron Kramer, Jumbo Eliot, John Morrow.
6) 
Ohio St Buckeyes- 8 national championships (6 national polls) and 21 bowl victories.
First season: 1890
Last championship: 2014
All-Time Win %: .738
Current conference: Big Ten
Defining Coach: Woody Hayes
Top 25 NFL Alumni:
Lou Groza, Orlando Pace, Jim Parker, Chris Carter, Paul Warfield, Bill Willis, Dante Lavelli, Jim Tyrer, Dick Schafrath, Eddie George, Jim Lachey, Jim Marshall, Mike Vrabel, Santonio Holmes, Nick Mangold, Randy Gradishar, Bob Vogel, Chris Spielman, Jack Tatum, Joey Gallaway, Terry Glenn, Dick LeBeau, A.J. Hawk, Pepper Johnson, Jim Houston.
7) 
Nebraska Cornhuskers- 5 national championships (5 national polls) and 24 bowl victories.
First season: 1890
Last championship: 1997 (shared with Michigan)
All-Time Win %: .708
Current conference: Big Ten
Defining Coach: Tom Osbourne
Top 10 NFL Alumni:
Bob Brown, Will Shields Mike Tingelhoff, Irving Fryar, Ron McDole, Ndamukong Suh, Neil Smith, Ahman Green, Roger Craig, Pat Fischer.
8) 
Miami Hurricanes- 5 national championships (5 national polls) and 18 bowl victories.
First season: 1926
Last championship: 2001
All-Time Win %: .641
Current conference: ACC
Defining Coaches: Jimmy Johnson, Dennis Erickson
Top 30 NFL Alumni: Ray Lewis, Jim Otto, Michael Irvin, Warren Sapp, Jim Kelly, Ted Hendricks, Ed Reed, Reggie Wayne, Edgerrin James, Andre Johnson, Devin Hester, Clinton Portis, Cortez Kennedy, Frank Gore, Jeremy Shockey, Vince Wilfork, Vinny Testaverde, Santana Moss, Chuck Foreman, Ottis Anderson, Jon Beason, Willis McGahee, Dennis Harrah, Jessie Armstead, Jonathan Vilma, Jimmy Graham, Antrel Rolle, Bryant McKinnie, Jerome Brown, Kellen Winslow II.
9) 
Texas Longhorns- 4 claimed national championships (4 national polls) and 27 bowl victories.
First season: 1893
Last championship: 2005
All-Time Win %: .709
Current conference: Big 12
Defining Coach: Darrell Royal
Top 15 NFL Alumni:
Earl Campbell, Bobby Layne, Steve McMichael, Bobby Dillon,Tommy Nobis, Priest Holmes, Ox Emerson, Bud McFadin, Ricky Williams, Raymond Clayborn, Diron Talbert, Eric Metcalf, Doug English, Vince Young, Jamaal Charles.
10) 
Penn St Nittany Lions- 7 claimed national championships (2 national polls) and 27 bowl victories.
First season: 1887
Last championship: 1986
All-Time Win %: .688
Current Conference: Big Ten
Defining Coach: Joe Paterno
Top 15 NFL Alumni:
Jack Hamm, Franco Harris, Mike Muncheck, Lenny Moore, Mike Michalske, Steve Wisniewski, Kerry Collins, Lydell Mitchell, Rosey Grier, LaVar Arington, Stew Barber, Dave Robinson, Ted Kwalick, John Capiletti, NaVorro Bowman.
11) 
Tennessee Volunteers- 6 claimed national championships (2 national polls) and 25 bowl victories.
First season: 1891
Last championship: 1998
All-Time Win %: .686
Current conference: SEC
Defining Coach: Robert Neyland
Top 25 NFL Alumni:
Peyton Manning, Reggie White, Doug Atkins, Al Wilson, Jamal Lewis, Jason Witten, Arian Foster, Stanley Morgan, Mike Stratton, Anthony Miller, Jack Reynolds, Dick Huffman, Terry McDaniel, Leonard Little, Carl Pickens, Dale Carter, Bill Bates, John Henderson, Travis Henry, Jerod Mayo, Chad Clifton, Shaun Ellis, Albert Haynesworth, Charlie Garner, Donte Stallworth.
12) 
LSU Tigers- 4 claimed national championships (3 national polls) and 23 bowl victories.
First season: 1893
Last championship: 2007
All-Time Win %: .647
Current conference: SEC
Defining Coach: Charles McClendon
Top 15 NFL Alumni:
Y.A. Tittle, Jim Taylor, Alan Faneca, Johnny Robinson, Kevin Mawae, Bert Jones, Charley Hennigan, Billy Cannon, Patrick Peterson, Dwayne Bowe, Henry Thomas, Roy Winston, Tommy Casanova, Fred Miller, Kevin Faulk.
13) 
Pittsburgh Panthers- 9 claimed national championships  (2 national polls) and 12 bowl victories.
First season: 1890
Last championship: 1976
All-Time Win %: .584
Current conference: Big East
Defining Coach: Glen "Pop" Warner, John "Jock" Sutherland
Top 20 NFL Alumni:
Dan Marino, Mike Ditka, Russ Grimm, Joe Schmidt, Tony Dorsett, Curtis Martin, Larry Fitzgerald, Darrell Revis, Ricky Jackson, Chris Doleman, Joe Stydahar, Ruben Brown, Mark Stepnoski, Bill Fralic, John Reger, Joe Flacco, Keith Hamilton, Andy Lee, Craig Heyward, LeSean McCoy.
14) 
Florida Gators- 3 claimed national championships (3 national polls) and 20 bowl victories.
First season: 1906
Last championship: 2008
All-Time Win %: .623
Current conference: SEC
Defining Coach: Steve Spurrier, Urban Meyer
Top 15 NFL Alumni:
Emmitt Smith, Jack Youngblood, Lomas Brown, Wilbur Marshall, Wes Chandler, Fred Taylor, Kevin Carter, Jevon Kearse, Lito Sheppard, Chris Collinsworth, Rick Casares, John L. Williams, Nat Moore, Percy Harvin, Neal Anderson.
15) 
Minnesota Golden Gophers- 6 claimed national championships (4 national polls) and 5 bowl victories.
First season: 1882
Last championship: 1960 (shared with Ole Miss)
All-Time Win %: .568
Current conference: Big Ten
Defining Coach: Bernie Bierman
Top 10 NFL Alumni: Carl Eller, Bobby Bell, Bronko Nagurski, Leo Nomellini, Karl Mecklenburg, Charlie Sanders, Gino Cappelletti, Keith Fahnhorst, Marion Barber III, Rick Upchurch.


_Note: Princeton and Yale actually lead all schools in national championships with 26 and 18 respectively.  However, given the state of their current programs and the fact that most of these wins occurred at the turn of the century when far less teams were participating, they are not up for top 15 consideration.  The same applies to Harvard (10 championships) and Penn (4 championships).

Other elite NFL talent producers:
---Syracuse: Jim Brown, Art Monk, Jim Ringo, Larry Csonka, John Mackey, Marvin Harrison, Walt Sweeney, Donavan McNabb, Dwight Freeney, Floyd Little, Jim Nance, Gary Anderson, Rob Burnett, Keith Bullock, Mike Williams.
---Florida St: Deion Sanders, Derrick Brooks, Walter Jones, Fred Biletnikoff, Warrick Dunn, Leroy Butler, Antonio Cromartie, Anquan Boldin, Brad Johnson, Samari Rolle, Darnell Dockett, Sebastian Janikowski, Javon Walker, Chris Hope, Laveranues Coles, Leon Washington, Peter Boulware, Rohn Stark, Tra Thomas.
---Purdue: Ron Woodson, Drew Brees, Bob Griese, Len Dawson, Erich Barnes, Jim Everett, Mike Alstott, Matt Light, Kyle Orton, Dick Barwegan, Erich Barnes, Dave Butz, Cris Dishman, Ed Flanagan, Abe Gibron.
---Georgia: Fran Tarkenton, Champ Bailey, Herschel Walker, Richard Seymour, Hines Ward, Terrell Davis, Jake Scott, Ray Donaldson, Bill Sanfill, Len Hauss, Mo Lewis, Guy McIntyre, Marcus Stroud, Matthew Stafford, A.J. Green, Geno Atkins.
---UCLA: Troy Aikman, Jonathan Ogden, Jimmy Johnson, Carnell Lake, Bob Waterfield, Maurice Jones-Drew, Ken Norton, Freeman McNeil, Kenny Easley, Randy Cross, Max Montoya, Donnie Edwards, Luis Sharpe, Jerry Robinson, Mercedes Lewis.
---Cal: Tony Gonzalez, Aaron Rodgers, Hardy Nickerson, Les Richter, Marshawn Lynch, Ed White, Perry Schwartz, Tarik Glenn, DeSean Jackson, Nnamdi Asomugha.
---NC State: Phillip Rivers, Torry Holt, Mario Williams, Roman Gabriel, Adrian Wilson, Mike Quick, Jerricho Cotchery, Vaughan Johnson, Dewayne Washington, Jim Ritcher.
---UNC: Lawrence Taylor, Julius Peppers, Chris Hanburger, Jeff Saturday, Harris Barton, William Fuller, Alge Crumpler, Ken Willard, Dre Bly, Greg Ellis, Hakeem Nicks, Vonnie Holliday, Jeff Reed, Sam Aiken, Willie Parker.


Call me crazy, but the first thing I thought of upon hearing the news of Peyton's dismissal was that scene at the end of The Godfather, when Abe Vigoda's character is pleading for his life after selling Michael out to the rival Barzini Family.  "Tell Mike it was only business.  I always liked him."  But hey, maybe I'm being too harsh in comparing the NFL to the criminal underground.  At least in the Mafia, this breach of loyalty is the exception instead of the rule, a virtue instead of an outdated vestige from a bygone era.  (And when a bounty is taken out on someone, I'll bet the compensation's better.) 

However, what's to follow in this Manning saga is more likely going to resemble the third Godfather than the first.  Peyton wasn't just a great player, he was an Indianapolis institution.  Seeing him in a different uniform, like with Montana, Favre, and Rice before him, seems almost unthinkable.  Call it the Godfather III effect.  Same guy we've known all along, but it just feels wrong.  It's that final chapter most fans wish they could pretend never happened.

In today's cutthroat NFL, the franchise lifer is becoming more and more of an endangered species. All along, it seemed like Peyton could be that guy, a throwback to the age before athletes were little more than mercenaries.  Sadly, even he couldn't overcome business as usual.  Here are the few remaining relics for whom it always felt exactly as it should.


The 25 Greatest NFL Players to Spend Entire Career With One Team Since The Dawn of Free Agency (Roughly 1990-Present)
Tom Brady* (New England Patriots)
Barry Sanders (Detroit Tigers)
John Elway** (Denver Broncos)
Dan Marino** (Miami Dolphins)
Bruce Matthews (Oilers/Titans)
Ray Lewis (Baltimore Ravens)
Troy Aikman (Dallas Cowboys)
Michael Irvin (Dallas Cowboys)
Jonathan Ogden (Baltimore Ravens)
Jim Kelly** (Buffalo Bills)
Marvin Harrison (Indianapolis Colts)
Michael Strahan (New York Giants)
Troy Polamalu* (Pittsburgh Steelers)
Brian Urlacher (Chicago Bears)
Derrick Thomas (Kansas City Chiefs)
Darrell Green (Washington Redskins)
Derrick Brooks (Tampa Bay Buccaneers)
Eli Manning* (New York Giants)
Walter Jones (Seattle Seahawks)
Ben Roethlisberger* (Pittsburgh Steelers)
Reggie Wayne* (Indianapolis Colts)
Terrell Davis (Denver Broncos)
Hines Ward (Pittsburgh Steelers)
Aaron Rodgers* (Green Bay Packers)
Adrian Peterson* (Minnesota Vikings)

* Active
**Career began pre-1990
Another regular season of college football has drawn to a close, and the annual BCS bickering has begun. For yet another year, a team perfectly deserving of a title shot has been denied, it's fate ultimately decided not on the field but by computers in a back room. And so, like every year before it, the pleas for a playoffs ring out, only to be swept under the rug and ignored. Here's why the BCS is really just Bull Shit with a C.
Myth #1: The BCS makes the regular season unparalleled in its intensity.
The argument goes that because a single loss will likely kick you out of national championship contention, every regular season game is essentially a must-win. And indeed, the college football regular season is perhaps the most consequential in all of sports. But creating an
8-team playoff system would not make the regular season games any less dire. Essentially any team that does not play in the SEC or Big 10 would likely be eliminated from the top 8 with a single loss anyway, so for the vast majority of teams, every game is still a "must-win." For the big schools, a single loss is not a death sentence, but it makes every remaining game a must-win.
No one is saying that all controversy is going to be eliminated by instituting a playoff system, after all, there will still be plenty of discussion over who gets that 8th spot and who gets shafted. But for heaven's sake, better that than a team that is arguably the best in the nation being shut out of the national championship (see 2003, USC). As it currently stands, a team that did absolutely everything that could possibly have been asked of them by winning all of their regular season games will be punished not getting a shot at the national championship (TCU). How can anyone look at this situation and see it as anything other than what it is, an out and out travesty.
Myth #2: There's too much money wrapped up in the Bowl system.
An 8-team playoff system would create 7 must-watch playoff games (4 in the first round, 2 in the second, and 1 national championship game). I don't know about you, but I barely can bring myself to care about 7 bowl games anymore. There are about 4 really good bowl games a year, and the rest are arbitrary, all-but-meaningless exercises in futility. But fine, I realize that all those sponsorships deals and awards add up to a whole lot a cha-ching, so here's a compromise: Why not do both? The top 8 teams have their playoff system and the rest of the bowl-eligible teams play their bowls. What is the problem? We can even give each of these playoff games some crappy sponsor name, like the Mylanta Semifinal Game. The NCAA still gets it mammoth television contracts, with guaranteed monster ratings for the playoffs.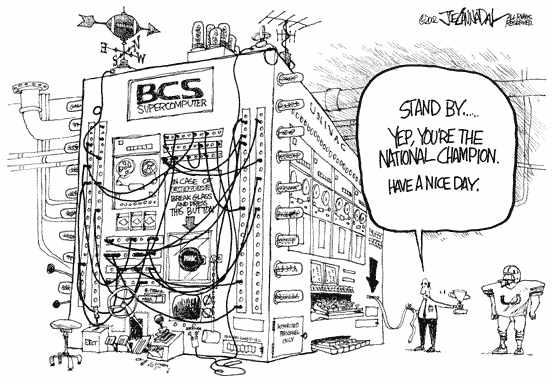 Myth #3: There's not enough time in the schedule for a playoffs.
I'm going to have to call shenanigans on this one as well. As the system currently stands, almost all teams finish their regular seasons by the first week in December. The ones fortunate enough to make it to a major bowl must then wait up to four weeks to play again. Firstly, it is beyond idiotic to make a title contender sit out a month before playing in their championship and think that this is a proper estimation of their ability. They're a month removed from their last match! No matter how much they practice, there is no substitute for the real thing.
The people in charge will tell you that the NCAA is an academic institution first and foremost, and that because the month of December is technically school vacation, these "students" should be home with their families. Please. Do you really believe for one second that these athletes aren't busting their asses the entire month in preparation for their big game? How about we cut the bullhicky and throw the playoffs into December. There's exactly three open weeks, one for each round of the playoffs, which means there's no need to lengthen the season.
I realize I'm not the first person to raise this concern and that the majority of college football fans actually support implementing a playoff. Even our president is down with getting rid of the BCS. Unfortunately, if Obama actually ever did make good on his word of implementing a playoff system, he'd be ripped to shreds by opponents for not concentrating on the supposedly important stuff, like the economy and the two wars we're currently fighting. (As if anything could really be more important than football.) The entrenched interests like things the way they are, and unfortunately for the rest of us you don't need reason when you've got power.
With every NFL draft comes an inevitable dose of uncertainty.  However, as Roger Goodell strode across the stage of Radio City Music Hall amid a cascade of
boos and "we want football!" chants, it became abundantly clear that this year would be different. (Actually, unless you'd been living under a rock the past six months, you probably had an inkling even before then.)   Every draft selection elicits that gnawing uncertainty of never truly knowing whether that potential is genuine or merely a mirage.  This year, it was the very sport itself which seethed with uncertainty.  Were we watching the first signs of getting back to business as usual, or a cruel tease leading up to the season that never was?
How fitting then that it would be Cameron Trophy leading off the night, a figure inextricably tied to controversy, and, well, uncertainty.  How much did he know about his father's shady dealings?  Was that championship and Heisman Trophy deserved?  And of course, what kind of player would he really turn out to be among the game's best?   Cam is far from a sure thing, especially playing for a miserable Panthers team for which he will have to come in and essentially play leader from day one.
However, if the number one pick is anything, 'sure thing' is not what comes to mind.  For every so-called "lock," there are three others that prove to be disappointments, sometimes colossally so.  What category Cameron Newton ultimately falls into is anybody's guess.  But in the 40+ years since the 1970 merger, few have been such franchise-altering, slam dunk #1 picks as the following 10 greats.

The Top Ten #1 Picks in NFL History (post-merger)
1998 The Indianapolis Colts select Peyton Manning, quarterback out of Tennessee
1983 The Baltimore Colts select John Elway, quarterback out of Stanford (subsequently traded to Denver)
1970 The Pittsburgh Steelers select Terry Bradshaw, quarterback out of Louisiana Tech
1989 The Dallas Cowboys select Troy Aikman, quarterback out of UCLA
1985 The Buffalo Bills select Bruce Smith, defensive end out of Virginia Tech
1978 The Houston Oilers select Earl Campbell, running back out of Texas
1997 The St. Louis Rams select Orlando Pace, offensive tackle out of Ohio State
1976 The Tampa Bay Buccaneers select Lee Roy Selmon, defensive end out of Oklahoma
1993 The New England Patriots select Drew Bledsoe, quarterback out of Washington State
1984 The New England Patriots select Irving Fryar, wide receiver out of Nebraska
Honorable Mentions: Keyshawn Johnson (1996), Michael Vick (2001), Jake Long (2008), Billy Sims (1980), Ed "Too Tall" Jones (1981)
Dishonorable Mentions: Tim Couch (1999), David Carr (2002), JaMarcus Russel (2007), Alex Smith (2005), Ki-Jana Carter (2005), Steve Emtman (1992), Aundray Bruce (1988), Kenneth Sims (1982), Walt Patulski (1972)
If there's one thing that's truly great about college football, its the rivalries.  Nothing ignites the fervor like playing that old nemesis across the way.  Often stretching back over a century or more, these age-old antagonisms are as deeply rooted in the culture of fandom as cheering for the team itself.  With Rivalry Week upon us, here is a look at the most intense and enduring college football rivalries of all time.
Name of Rivalry (if applicable)--Trophy Awarded (if applicable)--Team vs Team (Date of Original Matchup)
The Game--Ohio State vs Michigan (1897) Michigan leads 58-45 (six ties, Ohio State's 2010 vacated win not included)
Iron Bowl--James E. Foy, V-ODK Sportsmanship Trophy--Alabama vs Auburn (1893) Alabama leads 42-35 (1 tie)
The Game--Harvard vs Yale (1875)  Yale leads 65-56 (8 ties)
Army–Navy Game--Army vs Navy (1890) Navy leads 56-49 (7 ties)
Red River Rivalry--Golden Hat--Oklahoma vs Texas (1900)  Texas leads 60-43 (5 ties)
Michigan - Notre Dame Rivalry --Michigan vs Notre Dame (1887) Michigan leads 24-16 (1 tie)
Deep South's Oldest Rivalry--Auburn vs Georgia (1892) Auburn leads 55-54 (8 ties)
Florida State-Miami rivalry --Governor's Cup--Florida State vs Miami (1951) Miami leads 31-27
Clean, Old-Fashioned Hate-- Governor's Cup--Georgia vs Georgia Tech (1893) Georgia leads 64-39 (5 ties)
Big Game--The Stanford Axe--Stanford vs California (1892)  Standford leads 59-46 (11 ties)
Bedlam Series--Bedlam Bell--Oklahoma vs Oklahoma State (1900) Oklahoma leads 83-17 (7 ties)
Border War--Indian War Drum & Lamar Hunt Trophy--Kansas vs Missouri (1891) Missouri leads 57-54 (9 ties, record is disputed, 56-55 is also accepted by some)
Holy War --BYU vs Utah (1896)  Utah leads 57-34 (4 ties)
Saban Bowl--Alabama vs LSU (1895, nicknamed Saban Bowl in 2007 after Nick Saban's departure from LSU to Alabama)  Alabama leads 48-25 (5 ties)
Commonwealth Cup--Virginia vs Virginia Tech (1895) Virginia Tech leads 53-37 (5 ties)
South's Oldest Rivalry--North Carolina vs Virginia (1892) UNC leads 60-54 (4 ties)
Magnolia Bowl--Magnolia Bowl Trophy--LSU vs Ole Miss (1894) LSU leads 58-40 (4 ties)
Civil War --Platypus Trophy--Oregon vs Oregon State (1894) Oregon leads 61-46 (10 ties)
Lone Star Showdown--Lone Star Showdown trophy--Texas vs Texas A&M (1894)  Texas leads 76-37 (5 ties)
Duel in the Desert--Territorial Cup--Arizona vs Arizona State (1899) Arizona leads 47-39 (1 tie)
Seminole War Canoe Trophy--Florida vs Miami (1955) Miami leads 29-26
The World's Largest Outdoor Cocktail Party--Okefenokee Oar--Florida vs Georgia (1915) Georgia leads 50-40 (2 ties, Florida asserts a record of 49-40)
Egg Bowl--Golden Egg Trophy--Ole Miss vs Mississippi State (1901) Ole MIss leads 61-43 (6 ties)
Backyard Brawl--Pittsburgh vs West Virginia (1895)  Pitt leads 61-40 (3 ties)
Land of Lincoln/Sweet Sioux Tomahawk Trophy--Illinois vs Northwestern (1892, Sioux trophy established in 1945, changed to Land of Lincoln Trophy in 2009) Illinois leads 54-48 (5 ties)
Victory Bell--Duke vs North Carolina (1948)  UNC leads 40-22 (1 tie, 2 of UNC wins have been vacated)
Tiger Bowl--Auburn vs LSU (1901) LSU leads 27-20 (1 tie)
Heartland Trophy--Iowa vs Wisconsin (1894) Wisconsin leads 43-42 (2 ties)
Sunflower Showdown--Governor's Cup--Kansas vs Kansas State (1902) Kansas leads 64-42 (2 ties)
Sunshine Showdown--Florida vs Florida State (1958)  Florida leads 34-22 (2 ties)
Battle of the Brazos--Baylor vs Texas A&M (1899) A&M leads 68-31 (9 ties)
Victory Bell--Cincinnati vs Miami (OH) (1888) Miami leads 59-51 (7 ties)
Battle of the Brothers--Utah vs Utah State (1892) Utah leads 77-29 (4 ties)
The Battle for the Mitten--Paul Bunyan Trophy--Michigan vs Michigan State (1953) Michigan leads 68-33 (5 ties)
Battle of the Palmetto State--Clemson vs South Carolina (1896) Clemson leads 65-41 (4 ties)
Little Brown Jug--Michigan vs Minnesota (1903)  Michigan leads 73-24 (3 ties)
Apple Cup--Washington vs Washington State (1900) Washington leads 68-32 (6 ties)

Indiana–Purdue rivalry--Old Oaken Bucket--

Indiana vs Purdue

(trophy established in 1925, teams first m

et in 1891)  Purdue leads 72-38 (6 ties)

Old Wagon Wheel--BYU vs Utah State (1948)  BYU leads 46-34 (3 ties)
Rio Grande Rivalry--The Maloof Trophy--New Mexico vs New Mexico State (1894) New Mexico leads 68-31 (5 ties)
Baylor-TCU Rivalry--Baylor vs TCU (1899)  TCU leads 51-50 (7 ties)
Little Brown Stein--Idaho vs Montana (1903) Idaho leads 55-27 (2 ties)
Southwest Classic --Arkansas vs Texas A&M (1903) Arkansas leads 41-25 (3 ties)
Third Saturday in October--Alabama vs Tennessee (1901) Alabama leads 50-38 (7 ties)
Holy War --Frank Leahy Memorial Bowl and Ireland Trophy--Boston College vs Notre Dame (1975) Notre Dame leads 13-9
Oregon-Washington rivalry--Oregon vs Washington (1900)  Washington leads 58-42 (5 ties)
Paul Bunyan's Axe (formerly Slab of Bacon)--Minnesota vs Wisconsin (1890)  Minnesota leads 58-56 8 (ties)
Battle for the Rag--Tiger Rag or Victory Flag--LSU vs Tulane (1893)  LSU leads 69-22 (7 ties)
Border War--Bronze Boot--Colorado State vs Wyoming (1899)  Colorado State leads 56-44 (5 ties)
Missouri–Nebraska Rivalry--Victory Bell--Missouri vs Nebraska (1892) Nebraska leads 65-36 (3 ties)
CMU–WMU Rivalry Trophy--Central Michigan vs Western Michigan (1907)  WMU leads 44-36 (2 ties)
Arch Rivalry--Illinois vs Missouri (1896) Missouri leads 17-7
Rocky Mountain Showdown--Centennial Cup--Colorado vs Colorado State (1893) Colorado leads 62-21 (2 ties)
Battle of the Palouse--Idaho vs Washington State (1894) WSU leads 71-16 (3 ties)
Commander-in-Chief's Trophy--Air Force, Army, Navy (1972) Air Force: 18, Navy: 12, Army: 6
Tiger-Sooner Peace Pipe--Oklahoma vs Missouri (1929) Oklahoma leads 57-16 (4 ties)
UCLA-USC rivalry--Victory Bell--UCLA vs USC (1929)  USC leads 44-30 (7 ties)
Cy-Hawk Trophy--Iowa vs Iowa State (1977)  Iowa leads 39-20
Third Saturday in September--Florida vs Tennessee (1916)  Florida leads 22-19
Crab Bowl Classic--Maryland vs Navy (1905) Navy leads 14-7
Battle for the Palladium--The Palladium Trophy--Troy vs Middle Tennessee (1936)  Middle Tennessee leads 11-8
Boise State-Idaho rivalry--Governor's Cup--Idaho vs Boise State (1972) Boise State leads 22-17 (1 tie)
Battle for the Schwartzwalder Trophy--Ben Schwartzwalder Trophy--Syracuse vs West Virginia (trophy established in 1993, teams first met in 1945) Syracuse leads 32-27
Houston–Rice rivalry--Bayou Bucket--Houston vs Rice (1971)  Houston leads 27-11
Beehive Boot--BYU, Utah, Utah State, and Weber State (1971) BYU leads with 22 boots
Black and Blue Bowl-- Memphis vs Southern Miss (1935) Southern Miss leads 39-21 (1 tie)
Floyd of Rosedale--Iowa vs Minnesota (1891) Minnesota leads 61-44 (2 ties)
Maryland-Penn State rivalry--Maryland vs Penn State (1917) Penn St leads 35-1 (1 tie)
Maryland-Virginia rivalry--Maryland vs Virginia (1919)  Maryland leads 42-32 (2 ties)
Battle for the Golden Boot--Golden Boot--Arkansas vs LSU (1901, awarding of Golden Boot since 1996) LSU leads  35-20 (2 ties)
Maryland-West Virginia rivalry--Maryland vs West Virginia (1919) West Virginia leads 25-21 (2 ties)
The Battle of I-10 --Silver Spade--New Mexico State vs UTEP (1935)  UTEP leads 52-35 (2 ties)
Battle of I-75--Peace Pipe--Bowling Green vs Toledo (1919) Toledo leads 17-15
Florida Cup--Florida, Florida State, Miami (2002) Miami leads 3-1-1
Fresno State-San José State Rivalry--Fresno State vs San José State (1926) Fresno St leads 39-33 (3 ties)
Governor's Cup--Kentucky vs Louisville (1912) Kentucky leads 14-10
Illibuck--Illinois vs Ohio State (trophy established 1925, teams have met beginning in 1902,) Ohio St leads 62-30 (4 ties, record not including Ohio St's 2010 vacated win)
Notre Dame-USC rivalry--Jeweled Shillelagh--Notre Dame vs USC (1926) Notre Dame leads 43-34 (5 ties)
Keg of Nails--Cincinnati vs Louisville (1929)  CIncinnati leads 30-20 (1 tie)
Battle for the Mayor's Cup--Mayor's Cup--Rice vs SMU (1916)  SMU leads 47-40 (1 tie)
Legends Trophy--Notre Dame vs Stanford (1988)  Notre Dame leads 17-8
Megaphone Trophy--Michigan State vs Notre Dame (1949)  Notre Dames leads 32-26-1 since trophy began and 46-28-1 all time
Battle for the Iron Skillet--Iron Skillet--TCU vs SMU (1925)  TCU leads 44-40 (7 ties)
Michigan MAC Trophy--Central Michigan, Eastern Michigan, Western Michigan (2005) CMU-3, EMU-3, WMU-1
Old Brass Spittoon--Indiana vs Michigan State (1950) Michigan State leads 41-14 (1 tie)
Purdue Cannon--Illinois vs Purdue (1943)  Purdue leads 31-27 (2 ties)
Ram-Falcon Trophy--Air Force vs Colorado State (1980) Air Force leads 28-19 (1 tie)
Shillelagh Trophy--Notre Dame vs Purdue (1957) Notre Dame leads 55-26 (2 ties)
Telephone Trophy--Iowa State vs Missouri (1959)  Missouri leads 31-18 (3 ties)
Textile Bowl--Clemson vs North Carolina State (trophy awarded since 1981, teams have met beginning in1899) Clemson leads 51-27 (1 tie)
The Battle of the Land Grants--Land Grant Trophy--Michigan State vs Penn State (1993) Penn St leads 13-5
Battle for Nevada--Fremont Cannon--Nevada vs UNLV (1969)  Nevada leads 22-15
Shula Bowl--Don Shula Award--Florida Atlantic vs Florida International (2002)  Florida Atlantic leads 8-2
O'Rourke–McFadden Trophy--Boston College vs Clemson (trophy established 2008, teams first met in 1940) Clemson leads 10-9 (2 ties)
River City Rivalry--Paddlewheel Trophy--Cincinnati vs Pittsburgh (trophy awarded since 2005, teams played 4 times prior)  Ptt leads 8-3
Battle for the Bone--Fresno State vs Louisiana Tech (1986)  Fresno St leads 7-4
Battle for the Milk Can--Milk Can--Boise State vs Fresno State (trophy established in 2005, teams first met in 1977)  Boise leads 6-1
Wagon Wheel--Akron vs Kent State (1946)  Kent St leads 21-19 (1 tie)
Governor's Victory Bell--Minnesota vs Penn State (1993)  Penn St leads 8-4
Gansz Trophy--Navy vs SMU--(trophy established in 2009, trams first met in 1930) Navy leads 9-7
Battle for the Bones--The Bones--UAB vs Memphis (1997) UAB leads 10-4
Friends of Coal Bowl--Governor's Cup--West Virginia vs Marshall (trophy established in 2006, teams first met in 1911) West Virginia leads 11-0
Jefferson-Eppes Trophy--Florida State vs Virginia (1995) Florida St leads 14-2
Page 1 of 4