With every NFL draft comes an inevitable dose of uncertainty.  However, as Roger Goodell strode across the stage of Radio City Music Hall amid a cascade of
boos and "we want football!" chants, it became abundantly clear that this year would be different. (Actually, unless you'd been living under a rock the past six months, you probably had an inkling even before then.)   Every draft selection elicits that gnawing uncertainty of never truly knowing whether that potential is genuine or merely a mirage.  This year, it was the very sport itself which seethed with uncertainty.  Were we watching the first signs of getting back to business as usual, or a cruel tease leading up to the season that never was?
How fitting then that it would be Cameron Trophy leading off the night, a figure inextricably tied to controversy, and, well, uncertainty.  How much did he know about his father's shady dealings?  Was that championship and Heisman Trophy deserved?  And of course, what kind of player would he really turn out to be among the game's best?   Cam is far from a sure thing, especially playing for a miserable Panthers team for which he will have to come in and essentially play leader from day one.
However, if the number one pick is anything, 'sure thing' is not what comes to mind.  For every so-called "lock," there are three others that prove to be disappointments, sometimes colossally so.  What category Cameron Newton ultimately falls into is anybody's guess.  But in the 40+ years since the 1970 merger, few have been such franchise-altering, slam dunk #1 picks as the following 10 greats.

The Top Ten #1 Picks in NFL History (post-merger)
1998 The Indianapolis Colts select Peyton Manning, quarterback out of Tennessee
1983 The Baltimore Colts select John Elway, quarterback out of Stanford (subsequently traded to Denver)
1970 The Pittsburgh Steelers select Terry Bradshaw, quarterback out of Louisiana Tech
1989 The Dallas Cowboys select Troy Aikman, quarterback out of UCLA
1985 The Buffalo Bills select Bruce Smith, defensive end out of Virginia Tech
1978 The Houston Oilers select Earl Campbell, running back out of Texas
1997 The St. Louis Rams select Orlando Pace, offensive tackle out of Ohio State
1976 The Tampa Bay Buccaneers select Lee Roy Selmon, defensive end out of Oklahoma
1993 The New England Patriots select Drew Bledsoe, quarterback out of Washington State
1984 The New England Patriots select Irving Fryar, wide receiver out of Nebraska
Honorable Mentions: Keyshawn Johnson (1996), Michael Vick (2001), Jake Long (2008), Billy Sims (1980), Ed "Too Tall" Jones (1981)
Dishonorable Mentions: Tim Couch (1999), David Carr (2002), JaMarcus Russel (2007), Alex Smith (2005), Ki-Jana Carter (2005), Steve Emtman (1992), Aundray Bruce (1988), Kenneth Sims (1982), Walt Patulski (1972)
Last Updated (Sunday, 19 February 2017 20:34)
Written by Ben Pogany
1)
Packers
- Founded in 1919.
9 league championships, 4 Super Bowls and 9 conference titles
.
There is perhaps no city as intimately intertwined with its sports team as Green Bay is with the Packers. The Packers in large part built professional football to what it is today, and the ultimate hardware still bears their patron saint's name.
Wins:
698 (2nd)
All-time Win %:
.565 (4th)
Playoff Appearances:
30 (3rd)
Last Championship:
2010

Hall of Famers:
26

Defining Coach:
Vince Lombardi
The Immortals:
Bart Starr, Don Hutson, Reggie White, Brett Favre, Ray Nitschke, Paul Hornung, Forrest Gregg, Tony Canadeo, Henry Jordan, Aaron Rodgers.
2)
Steelers
- Founded in 1933 as the Pittsburgh Pirates before switching to the Steelers in 1940.
6 Super Bowls and 8 conference titles.
The Steelers were relative late bloomers compared to their contemporaries, but once the Super Bowl era kicked off, the Steel Curtain soon descended upon the NFL.  Owned by the Rooney family since their inception, they ruled the seventies and are now sneaking up on the Patriots for the team of the 21st Century.
Wins:
569 (4th)
All-time Win %:
.523 (14th)
Playoff Appearances:
28 (tied for 5th)
Last Championship:
2008

Hall of Famers:
23
Defining Coach:
Chuck Noll
The Immortals:
Joe Greene, Terry Bradshaw, Jack Lambert, Franco Harris, Rod Woodson, Lynn Swann, Jack Ham.
3)
Patriots
-Founded in 1959 as the Boston Patriots before expanding their base to all of New England in 1971.  
5 Super Bowls and 9 conference titles.
A relative newcomer to the football landscape, the Brady/Belichick era has catapulted a once floundering franchise into perennial Super Bowl contenders and good for the third greatest pro football franchise of all time.
Wins:
438 (14th)
All-time Win %:
.540 (9th)
Playoff appearances:
21 (16th)
Last Championship:
2017

Hall of Famers:
4

Defining Coach:
Bill Belichick
The immortals:
Tom Brady, John Hannah, Rob Gronkowski, Mike Haynes, Andre Tippet, Adam Vinatieri.
4)
Cowboys
- Founded in 1960.
5 Super Bowls and 8 conference titles.
Few outside of Dallas would agree that the Cowboys still deserve to be called "America's team." But in truth, what could be more American than amassing wealth, and on that front, no one holds a candle to the Boys.  Jim Jones has built the Cowboys into the most valuable franchise in America, and are second only to Manchester United worldwide. Though playoff wins are few and far between nowadays (and that's an understatement), their ownership of the nineties alone puts them at a solid third place.  
Wins:
464 (13th)
All-time Win %:
.571 (2nd)
Playoff appearances:
31 (2nd)
Last Championship:
1995

Hall of Famers:
17

Defining Coach:
Tom Landry
The Immortals:
Bob Lilly, Emmitt Smith, Roger Staubach, Randy White, Troy Aikman, Michael Irvin, Tony Dorsett, Deion Sanders
5)
Bears
- Founded in 1919 as the Decatur Staleys.
8 league championships, 1 Super Bowl, and 4 conference titles.
Wins:
730 (1st)
All-time Win %:
.577 (1st)
Playoff Appearances:
25 (10th)
Last Championship:
1985
Hall of Famers:
31

Defining Coach:
George Halas
The Immortals:
Walter Payton, Dick Butkus, Mike Ditka, Bronko Nagurski, Gale Sayers, Sid Luckman, Red Grange, Mike Singletary, Bill George.
6)
49ers
- Founded in 1946.
5 Super Bowls and 6 conference titles.Wins:
545 (6th)
All-time Win %:
.558 (5th)
Playoff appearances:
26 (8th)
Last Championship:
1994

Hall of Famers:
16

Defining Coach:
Bill Walsh
The Immortals:
Jerry Rice, Joe Montana, Ronnie Lott, Steve Young, Jimmy Johnson, Leo Nemellini, Roger Craig, Dave Wilcox, John Brodie, Patrick Willis.
7)
Giants
- Founded in 1925.
4 league championships, 4 Super Bowls and 11 conference titles.
Wins:
661 (3rd)
All-time Win %:
.547 (7th)
Playoff appearances:
31 (1st)
Last Championship:
2011

Hall of Famers:
27

Defining Coach:
Bill Parcells
The Immortals:
Lawrence Taylor, Michael Strahan, Emlen Tunnell, Phil Simms, Sam Huff.
8)
Browns
- Founded in 1946.
8 league championships and 11 conference titles.

Though today's Browns are more synonymous with torture and misery, it might be hard to imagine that at one time the North Coast ruled the football universe. Unfortunately, the Super Bowl era has not been kind to Cleveland.
Wins:
498 (11th)
All-time Win %:
.535 (11th)
Playoff Appearances:
28 (4th)
Last Championship:
1964
Hall of Famers:
21

Defining Coach:
Paul Brown
The Immortals:
Jim Brown, Otto Graham, Paul Warfield, Lou Groza, Ozzie Newsome.
9)
Redskins
- Founded in 1932 as the Boston Braves. However, because some perhaps saw the name Braves as being a bit disrespectful towards Native Americans, they changed their moniker to the Redskins a year later. They moved to Washington in 1937, where they've won
2 league championships, 3 Super Bowls and 5 conference titles.Wins:
565 (5th)
All-time Win %:
.509 (16th)
Playoff Appearances:
23 (11th)
Last Championship:
1991
Hall of Famers:
23

Defining Coach:
Joe Gibbs
The Immortals:
Sammy Baugh, Joe Theismann, Darrell Green, Sonny Jurgensen.
10)
Raiders
- Founded in 1960 as the Oakland Senores.
1 league championship, 3 Super Bowls and 4 conference titles.Wins:
434 (15th)
All-time Win %:
.536 (10th)
Playoff appearances:
21 (tied for 14th)
Last Championship:
1983
Hall of Famers:
19

Defining Coach:
Al Davis, John Madden
The immortals:
Gene Upshaw, Jim Otto, Art Shell, Marcus Allen, Willie Brown, Ted Hendricks.
Also in the conversation:
Broncos, Dolphins, Colts, Rams, Ravens.

Some less-than-flattering distinctions:
--The Cardinals currently possess the longest championship drought in pro football, dating back to 1947. They also have an appalling 716 losses to their credit, almost 100 more than the next most losing team: the Detroit Lions.
--The Vikings, Bengals, and Falcons are the only teams that have existed 40+ years and are still without a championship. In addition, the Eagles, Lions, Titans/Oilers, Chargers, Browns, Bills, Jets, and Chiefs have waited over 40 years since their last championship.
--The Buccaneers are the only team with sub-.400 all time win percentage (.392).
A look at baseball's twenty greatest voices and the iconic calls that made them legendary.

1)  Vin Skully- Dodgers
--"It is 9:46 PM, 2 and 2 to Harvey Kuenn, one strike away, Sandy into his wind up, here's the pitch..swung on and missed, a perfect game!"
--"So the winning run is at second base, with two out, 3 and 2 to Mookie Wilson...little roller up along first..behind the bag! It gets through Buckner! Here comes Knight and the Mets win it!"
--"In a year that has been so improbable, the impossible has happened!"

2)  Mel Allen- Yankees
--"Sudden death now, last of the ninth. 9 to 9. There's a drive into deep left field, look out now… that ball is goooing, going gone! And the World Series is over! Mazeroski… hits it over the left field fence for a home run, and the Pirates win it 10-9 and win the World Series!"

3)  Jack Buck- Cardinals
--"Go crazy folks, go crazy!",
--"I don't believe what I just saw!"
--"And we'll see ya tomorrow night!"

4)  Red Barber- Dodgers
--"This is Red Barber speaking. Let me say hello to you all."
--"Here's a pitch...swung on, belted..its a long one..deep to the left center..back goes Giofreedo, back back back back back back..heee makes a one-handed catch against the bullpen!! Oh doctor!"

5) Ernie Harwell-Tigers
--"Long gone!"

6) Bob Prince- Pirates
--"A bloop and a blast" "Kiss it goodbye!"

7) Harry Caray- Cubs/Cardinals
--"Take me out to the baaallgaaame, take me out with the croooowd.."

8)  Russ Hodges- Giants
--"THE GIANTS WON THE PENNANT!! THE GIANTS WON THE PENNANT!! THE GIANTS WON THE PENNANT!! THE GIANTS WON THE PENNANT!!"

9)  Curt Gowdy- Red Sox and NBC national
--"It could be...it could be...it is!" (Williams homers in his final at bat)


10) Harry Kalas- Phillies
--"Heres the stretch by Robinson.. the 3-0 pitch...swing and a long drive...there it is...number 500...a career 500th home run for Michael Jack Schmidt!"

11)  Bob Elson-White Sox

12) Phil Rizzuto-Yankees
--"Holy cow!"
13)
Bob Uecker- Brewers, national
14)  Milo Hamilton- Cubs/Braves/Pirates and four other clubs
--"He's sittin' on 714... Here's the pitch by Downing... swinging... there's a drive into left-center field... that ball is gonna beee... OUTTA HERE! IT'S GONE! IT'S 715! There's a new home run champion of all time... and it's HENRY AARON!"

15) Chuck Thompson- Orioles
--"Here's a swing and a high fly ball going deep to left, this may do it!…Back to the wall goes Berra, it is…over the fence, home run, the Pirates win!…Ladies and gentlemen, Mazeroski has hit a one-nothing pitch over the left field fence at Forbes Field to win the 1960 World Series for the Pittsburgh Pirates by a score of ten to nothing!"

16) Jerry Coleman- Padres
--"You can hang a star on that baby"


17) Bob Wolff-Senators

18) Jack Brickhouse- Cubs
--"Whoo, boy! Next time around, bring me back my stomach!" "Hey, hey!" "There's a long drive waaay back in center field...waaay baaack, baaack, it is...caaaaaught by Willie Mays! Willie Mays just brought this crowd to its feet... with a catch... which must have been an optical illusion to a lot of people."

19) Dave Niehaus- Mariners
--"Get out the rye bread and the mustard this time grandma, it is a GRAND SALAMI and the Mariners lead it 10-6! I don't believe it. My oh my!!"

20)
Skip Caray- Braves
--"A lotta room in right-center, if he hits one there we can dance in the streets. The 2-1. Swung, line drive left field! One run is in! Here comes Bream! Here's the throw to the plate! He is...safe! Braves win! Braves win! Braves win! Braves win!...Braves win! They may have to hospitalize Sid Bream; he's down at the bottom of a huge pile at the plate. They help him to his feet. Frank Cabrera got the game winner! The Atlanta Braves are National League champions again! This crowd is going berserk, listen!"
Honorable Mentions:

Lindsey Nelson (Mets)
,
Dizzy Dean (Browns, national), Joe Garagiola (national),
Marty Brennaman (Reds)

,
Ned Martin (Red Sox), Bob Murphy (Mets), Lon Simmons (Giants/A's), Bob Costas (national), Jimmy Dudley (Indians
), Herb Carneal (Twins),

Denny Matthews (Royals), Dave Van Horne (Expos), Arch McDonald (Senators), Tom Cheek (Blue Jays), Gene Elston (Astros), By Saam (Phillies), Tony Kubek (national), Jerry Remy (Red Sox),  Bill King (A's)

Another regular season of college football has drawn to a close, and the annual BCS bickering has begun. For yet another year, a team perfectly deserving of a title shot has been denied, it's fate ultimately decided not on the field but by computers in a back room. And so, like every year before it, the pleas for a playoffs ring out, only to be swept under the rug and ignored. Here's why the BCS is really just Bull Shit with a C.
Myth #1: The BCS makes the regular season unparalleled in its intensity.
The argument goes that because a single loss will likely kick you out of national championship contention, every regular season game is essentially a must-win. And indeed, the college football regular season is perhaps the most consequential in all of sports. But creating an
8-team playoff system would not make the regular season games any less dire. Essentially any team that does not play in the SEC or Big 10 would likely be eliminated from the top 8 with a single loss anyway, so for the vast majority of teams, every game is still a "must-win." For the big schools, a single loss is not a death sentence, but it makes every remaining game a must-win.
No one is saying that all controversy is going to be eliminated by instituting a playoff system, after all, there will still be plenty of discussion over who gets that 8th spot and who gets shafted. But for heaven's sake, better that than a team that is arguably the best in the nation being shut out of the national championship (see 2003, USC). As it currently stands, a team that did absolutely everything that could possibly have been asked of them by winning all of their regular season games will be punished not getting a shot at the national championship (TCU). How can anyone look at this situation and see it as anything other than what it is, an out and out travesty.
Myth #2: There's too much money wrapped up in the Bowl system.
An 8-team playoff system would create 7 must-watch playoff games (4 in the first round, 2 in the second, and 1 national championship game). I don't know about you, but I barely can bring myself to care about 7 bowl games anymore. There are about 4 really good bowl games a year, and the rest are arbitrary, all-but-meaningless exercises in futility. But fine, I realize that all those sponsorships deals and awards add up to a whole lot a cha-ching, so here's a compromise: Why not do both? The top 8 teams have their playoff system and the rest of the bowl-eligible teams play their bowls. What is the problem? We can even give each of these playoff games some crappy sponsor name, like the Mylanta Semifinal Game. The NCAA still gets it mammoth television contracts, with guaranteed monster ratings for the playoffs.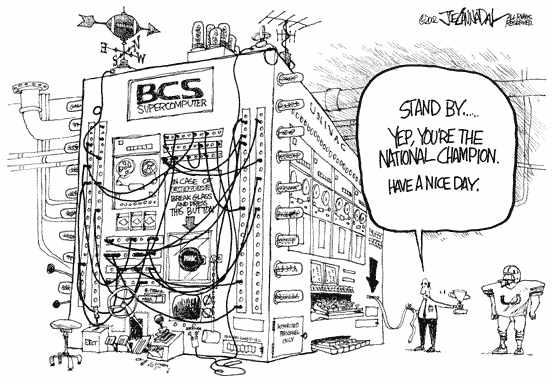 Myth #3: There's not enough time in the schedule for a playoffs.
I'm going to have to call shenanigans on this one as well. As the system currently stands, almost all teams finish their regular seasons by the first week in December. The ones fortunate enough to make it to a major bowl must then wait up to four weeks to play again. Firstly, it is beyond idiotic to make a title contender sit out a month before playing in their championship and think that this is a proper estimation of their ability. They're a month removed from their last match! No matter how much they practice, there is no substitute for the real thing.
The people in charge will tell you that the NCAA is an academic institution first and foremost, and that because the month of December is technically school vacation, these "students" should be home with their families. Please. Do you really believe for one second that these athletes aren't busting their asses the entire month in preparation for their big game? How about we cut the bullhicky and throw the playoffs into December. There's exactly three open weeks, one for each round of the playoffs, which means there's no need to lengthen the season.
I realize I'm not the first person to raise this concern and that the majority of college football fans actually support implementing a playoff. Even our president is down with getting rid of the BCS. Unfortunately, if Obama actually ever did make good on his word of implementing a playoff system, he'd be ripped to shreds by opponents for not concentrating on the supposedly important stuff, like the economy and the two wars we're currently fighting. (As if anything could really be more important than football.) The entrenched interests like things the way they are, and unfortunately for the rest of us you don't need reason when you've got power.
Meryl Streep: The Deer Hunter, Sophie's Choice, Kramer vs. Kramer, Out of Africa, Doubt, The Bridges of Madison Country, Iron Lady, The Hours, Adaptation, The French Lieutenant's Wife, Silkwood, Ironweed, A Cry in the Dark, Postcards From the Edge, One True Thing, Music of the Heart, The Devil Wears Prada, Julie and Julia, Manhattan, August: Orange County.
Judi Dench: Mrs. Brown, Shakespeare in Love, Notes on a Scandal, Chocolat, Philomena, Casino Royale, Iris, The Shipping News, Mrs Henderson Presents, Cranford.
Diane Keaton: Annie Hall, The Godfather II, Something's Gotta Give, Reds, Marvin's Room, Manhattan, Looking for Mr. Goodbar, Shoot the Moon, Mrs. Soffel, Baby Boom.
Susan Sarandon: Dead Man Walking, Atlantic City, Bull Durham, Thelma & Louise, White Palace, Lorenzo's Oil, The Client, Stepmom, Igby Goes Down.
Faye Dunaway: Network, Chinatown, Bonnie and Clyde, Mommie Dearest, The Thomas Crown Affair, Three Days of the Condor, Barfly, Hurry Sundown, Puzzle of a Downfall Child, The Towering Inferno.
Vanessa Redgrave: Julia, Morgan: A Suitable Case for Treatment, Howards End, Camelot, Isadora, Mary Queen of Scots, The Bostonians, Prick Up Your Ears, A Month by the Lake, The Gathering Storm
Jodie Foster: Silence of the Lambs, Taxi Driver, The Accused, Contact, Nell, Panic Room, Brave One, Bugsy Malone, Inside Man, Freaky Friday.
Ellen Burstyn: Requiem For a Dream, Alice Doesn't Live Here Anymore, The Exorcist, The Last Picture Show, Same Time Next Year, Resurrection, The People vs. Jean Harris, Silence of the North, Pack of Lies, Mrs. Harris.
Julianne Moore: Still Alice, Boogie Nights, Magnolia, Far from Heaven, The Big Lebowski, The End of the Affair, The Kids Are Alright, The Hours, Game Change, A Single Man, Children of Men.
Glenn Close: Fatal Attraction, The World According to Garp, Albert Nobbs, Dangerous Liaisons, 101 Dalmatiansl.
Jane Fonda: Coming Home, Klute, The China Syndrome, On Golden Pond, The Shoot Horses Dont They?

Julia Roberts: Erin Brockovich, Pretty Woman, Notting Hill, My Best Friend's Wedding, Steel Magnolias.
Shirley Maclane: Terms of Endearment, Madame Sousatzka, The Turning Point, Irma la Douce, The Apartment.
Emma Thompson: Howard's End, In the Name of the Father, The Remains of the Day, Sense and Sensibility, Harry Potter Franchise.
Annette Bening: American Beauty, The Kids Are All Right, Being Julia, Mrs Harris, The Grifters, The American President, Bugsy, Open Range, Running with Scissors, The Seige.
Helen Mirren: The Last Station, The Queen, Gosford Park, The Madness of King George, Hitchcock.
Nicole Kidman: The Hours, Rabbit Hole, The Others, To Die For, Moulin Rouge!.
Sally Field: Places in the Heart, Norma Rae, Lincoln, Forrest Gump, Steel Magnolias.
Jessica Lange: Blue Sky, Tootsie, Frances, A Streetcar Named Desire, Grey Gardens
Kathy Bates: Misery, Fried Green Tomatoes, Dolores Claiborne, Primary Colors, About Schmidt.
Kate Winslet: Hamlet, Titanic, Eternal Sunshine of the Spotless Mind, The Reader, Revolutionary Road, Finding Neverland, Sense and Sensibility, Little Children, Iris, Quills.
Maggie Smith: The Prime of Mrs. Jean Brodie, California Suite, Gosford Park, A Room With a View, Harry Potter Franchise.

Cate Blanchett: Lord of the Rings, I'm Not There, The Aviator, Blue Jasmine, Notes on a Scandal, Elizabeth, The Talented Mr. Ripley, The Curious Case of Benjamin Button, Bandits, Elizabeth: Thee Golden Age.
Natalie Portman: Black Swan, Closer, Leon, Jackie, Star Wars Movies, Garden State, V For Vendetta, Beautiful Girls, Brothers, Anywhere but Here, Where the Heart Is.
Frances McDormand: Fargo, Almost Famous, Blood Simple, Mississippi Burning, North Country.
Sissy Spacek: Coal Miner's Daughter, Carrie, In the Bedroom, Badlands, Crimes of the Heart, Missing, The Straight Story, The River, Raggedy Man, Tuck Everlasting.
Sigourney Weaver: Alien Movies, Ghostbusters, Gorillas in the Mist: The Story of Dian Fossey, Working Girl, Avatar.
Viola Davis: The Help, Doubt, Fences, Prisoners.
Amy Adams: Arrival, American Hustle, The Master, The Fighter, Doubt, Enchanted.
Hilary Swank: Boys Don't Cry, Million Dollar Baby, Insomnia, Amelia, Conviction.
Tilda Swinton: Michael Clayton, We Need to Talk About Kevin, The Deep End, The Curious Case of Benjamin Button, Julia.

Laura Linney: You Can Count on Me, Kinsey, Mystic River, The Squid and the Whale, The Life of David Gale.
Sharon Stone: Casino, Basic Instinct, The Quick and the Dead
Gwyneth Paltrow: Shakespeare in Love, Se7en, Iron Man, The Royal Tenenbaums, Emma.
Kim Basinger: L.A. Confidential, The Natural, My Stepmother Is An Alien.
Charlize Theron: Monster, North Country, The Cider House Rules.
Diane Wiest: Bullets Over Broadway, Hannah and Her Sisters, Edward Scissorhands
Sandra Bullock: The Blind Side, Speed, Gravity, Crash, A Time to Kill.
Holly Hunter: The Piano, O Brother Where Art Thou?, Raising Arizona, Broadcast News, Thirteen.
Anjelica Houston: Prizzi's Honor, The Grifters, The Royal Tenenbaums, Iron Jawed Angels, The Adams Family.
Julie Christie: Darling, Doctor Zhivago, Away From Her, Afterglow, McCabe & Mrs. Miller.

Judy Davis: Husbands and Wives, Barton Fink, A Passage to India.
Michelle Williams: Brokeback Mountain, My Week with Marilyn, Blue Valentine, Manchester by the Sea, Shutter Island, Wendy and Lucy
Helena Bonham Carter: The King's Speech, The Wings of the Dove, Harry Potter Movies, Fight Club, Sweeney Todd.
Emily Watson: Breaking the Waves, The Boxer, Hilary and Jackie, Gosford Park, Red Dragon.
Halle Berry: Monster's Ball, X-Men, Introducing Dorothy Dandridge.
Naomi Watts: 21 Grams, Mulholland Drive, The Impossible, King Kong, The Ring.
Jessica Chastain: Zero Dark Thirty, The Help, The Tree of Life, Take Shelter, The Debt.
Jennifer Connelly: Requiem For A Dream, A Beautiful Mind, House of Sand and Fog, Blood Diamond, Once Upon a Time in America
Anne Hathaway: Les Miserables, Rachel Getting Married, The Dark Knight Rises.
Note: Actresses must have appeared in at least one 21st century movie to be considered "modern."
*Best Actress/Supporting Actress Academy Award winning performances appear in italics.
Written by Ben Pogany
Wednesday, 10 November 2010 16:36
As we enter the crossroads of college sports in which the football regular season winds down while the hoops season kicks off, the vast majority of fans from the six
major conferences are either pinning all their hopes on a respectable bowl victory or looking far ahead to the madness of March. Success is more often than not an either/or proposition when it comes to the distinct worlds of these two wildly popular pastimes. In fact, only seven schools have ever won a title in both sports (Michigan St, Florida, Ohio St, Michigan, UCLA, Maryland, and Syracuse) and only one (Florida during that magical '06-'08 run) has even captured both in the last generation. Historically, you're either a football school or a basketball school. You have your Dukes and Kentuckys or your Nebraskas and Penn States. With all that being said, it seems like more and more colleges are diversifying. For instance, there's a very solid chance that Michigan St, Ohio St, Wisconsin, Virginia Tech, Florida and Missouri will all finish with a top 25 ranking in both sports. Furthermore, one could make a list encompassing Tennessee, Boston College, Notre Dame, Pitt, USC, Oklahoma, Oklahoma St, LSU, Texas, West Virginia, Georgia Tech, Texas A&M and BYU that have enjoyed a moderate level of dual success in recent years.

However, does this success translate to the hearts and wallets of the fans? Looking at school revenues over the past year across the board, it was clear that football is king. Despite football's shorter season and with it, far less home games to sell tickets for, only Duke, Villanova, Georgetown, and Louisville raked in more money with their hoops programs among big six schools (Though Gtown and Nova play their football at the subdivision level). Even basketball powerhouses like Syracuse ($16.8 million in revenue in hoops to $17.1 in football), Kansas ($15.7 to $17.7) and Kentucky ($16.8 to $31.9) have their relative revenues in football's favor. Among historically football-fueled schools that had made great strides in their basketball programs as of late it wasn't even close (Ohio St enjoyed revenues of $16 million in hoops to a whopping $63.7 million in football while Florida, with all their recent success in basketball, brought in only $10 million to a ridiculous $68 million in football.) And, to nobody's surprise, Nebraska's ratio was $6.3/$55 while USC's was $3.8/$35.


Luckily, as a fan without a true horse in the race or a bottom line to worry about, I don't have to chose.  Most everyone else can take comfort in that there's always next year, or that March is just around the corner, or maybe, if you're lucky, both.
"I am not a role model," proclaimed Charles Barkely in the now infamous 1993 Nike Commercial.  "Just because I dunk a basketball, doesn't mean I should raise your kids."  And you know what?  With athletes like these, that's probably a good thing.
OJ Simpson--

The white Ford Bronco, the bloody glove, the "

if it doesn't fit, you must acquit."  Arguably the most sensational trial in American history,

OJ walked away from a double murder a free man

.  However, karma is a bitch and the Juice is

currently serving a 33-year prison sentence for a 2007 Las Vegas robbery

.

Michael Vick--In 2007, evidence of the dog-fighting ring known as "Bad Newz Kennels" was uncovered at a property owned by Vick in Virginia.  Vick was later accused of electrocuting, beating, and strangling the dogs in addition to directly financing the operation.  He ended up serving 18 months
Tonya Harding--In 1994, Harding's ex-husband, Jeff Gillooly, and her bodyguard, Shawn Eckhardt, hired Shane Stant to strike rival figure skater Nancy Kerrigan on the knee. Harding went on to win the US figure skating championship while Kerrigan was forced to withdraw due to her injury.  Tonya insisted that she had attempted to prevent the planned attack, even going so far as to say that when she attempted to call the FBI, her ex threatened to kill her following a gunpoint gang rape by Gillooly and two other men.  However, nobody bought it and Harding was eventually stripped of her title and banned from the US Figure Skating Association for life.  Harding has since release an utterly horrific sex-tape (so I'm told) and beaten up Paula Jones on the short-lived Fox experiment Celebrity Boxing.
Mike Tyson--Though arrested 38 times by age 13, the crime that really shook the sports world was his alleged

rape of 18-year-old

Miss Black Rhode Island

Desiree Washington in 1991

.

Iron Mike served 3 of his 6-year prison term before being released, going on bite the ears of grown men, rack up a slew of DUI and drug charges, and care for his pigeons.  (He owned over 350 at one point)
Adam "PacMan" Jones--In 2007, during NBA All-Star Weekend in Las Vegas, as Pac Man and rapper Nelly "made it rain" on several strippers at the club Minxx, Jones became enraged when one girl began collecting some of the money without his permission.  Like any upstanding gentleman, Pac Man grabbed the stripper by her hair and slammed her head on the stage.  During the ensuing scuffle with security, Jones threatened one of the guards' lives.  Later that evening, a member of Jones' entourage returned to the club and fired several shots into a crowd, twice hitting the guard whom Pac Man had threatened and also ultimately paralyzing former professional wrestler Tommy Urbanski. Jones pleaded no contest to one charge of conspiracy to commit disorderly conduct and was given a suspended prison sentence of one year, probation,and ordered to perform 200 hours of community service.
Rae Carruth--In 1999, the former Panther receiver allegedly blocked the car of Cherica Adams, his girlfriend and baby-mama to-be while another car drove alongside and opened fire on the woman, killing her. Carruth was eventually found by police hiding in the trunk of a car outside a motel in Tennessee alongside $3,900 in cash, bottles to hold his urine, extra clothes, candy bars, and a cell phone.  He was convicted of conspiracy to commit murder and is currently serving a prison sentence of 18-24 years.
Nate Newton--In 2001, police found 213 pounds of marijuana in Nasty Nate's van.  Unbelievably, five weeks later, while out on bail, Nate again had a run in with the police, this time with only a mere 175 pounds of pot in his possession.  The six-time pro-bowl offensive lineman was given 30 months in the slammer and has reportedly renounced his old ways.
Ugueth Urbina- In 2005, this former Sox reliever was accused of attacking five of his Venezuelan farm hands with both a machete and by pouring gasoline on them.  He is currently serving 14 years in prison for attempted murder.
Riddick Bowe--In 1998, the former heavyweight champ was convicted of kidnapping his wife and children, driving them from North Carolina to Maryland, and then threatening his wife with a knife, handcuffs, duct tape and pepper spray. Bowe actually got off with 30 days by claiming that he had suffered brain damage as a result of repeated blows to the head.  However, this ridiculous decision was eventually overturned and he served 17 months in prison.
Plaxico Burress--Talk about adding insult to injury.  Guy shoots himself in the leg, then gets thrown in jail for two years all because he didn't have a permit for the weapon. Coming from someone who literally had his heart broken by Plax, I'll be the first to say this is beyond ridiculous.  Donte Stallworth kills someone in a drunk driving accident and gets off with a few months, while at the same time Plaxico gets two years for shooting himself??  Horrific crime it was not.  But sensational?  Very.
Page 7 of 13